RBS to close 44 branches across UK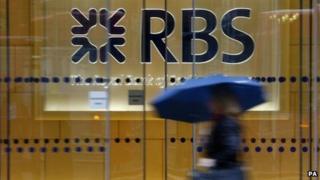 Taxpayer-backed Royal Bank of Scotland (RBS) has announced it is closing 44 branches across the UK, 14 of which are classed as the "last banks in town".
That is despite the fact that the bank pledged in 2010 not to close such branches.
A spokeswoman for RBS said "the world had changed since then", and there had been a 30% fall in branch transactions over the last four years.
But campaigners accused the bank of letting down its customers.
RBS said customers in many Scottish communities affected would now be served by a mobile van.
Others will continue to have access to services through the Post Office, or cash machines.
RBS said those branches classed as "last banks in town" and which are to close, are only open for a few hours a week.
Some of them often see just one or two customers an hour.
It added that in most cases customers would still only be a few miles away from their nearest branch.
However, in its customer charter of 2010, RBS said it would not close any bank which was the last one in the community.
It said then that it had identified 100 such locations, and promised "to stay open for business if we are the last bank in town, and consider a range of options to ensure a local banking service is available".
Campaigners said they had expected such closures to take place for some time.
"It's no surprise to see the bank let down its customers once again by upping sticks and leaving town - even where it's promised not to do so," said Charlotte Webster of the campaign group Move Your Money.
"Banks of this scale just can't be trusted to take its customers' needs into account, even when the only reason it's still around is because of our support," she added.
Significant change
A spokesman for RBS said: "Banking has changed significantly over the last few years as more and more of our customers are banking with us where and when it is convenient for them.
"We have to adapt to what our customers want, which is why we're investing in a range of other ways our customers can bank with us, including online and telephone banking, our mobile app, and in any one of the Post Office's 11,500 branches across the UK."
The branch closures come two months after RBS said it planned to slash costs by more than £5bn over four years, after its annual results showed it made a loss of £8.2bn in 2013.
RBS said it had been telling affected customers about the closures over the past two months.
Of the 14 "last banks in town", seven are in Scotland, six in England, and one in Wales.
Those in Scotland are: Castletown, near Thurso; Pathhead, Midlothian; Longniddry and East Linton, East Lothian; Greenlaw, Scottish Borders; Bonnybridge, near Falkirk. and Chirnside, Berwickshire.
Those in England are: Bollington, Cheshire; Fair Oak, near Eastleigh; Chelford, Cheshire; Highcliffe on Sea, Dorset; Old Roan, Liverpool; Repton, Derbyshire.
The branch in Wales is Radyr, near Cardiff.