Has government hurt education exports?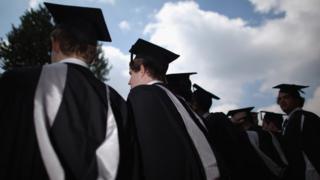 One of the UK's great global competitive strengths is in education, which contributes around £10bn a year in export earnings.
Which is useful at a time when the gap between our earnings from the rest of the world, and what we pay to the rest of the world, has been widening.
So it may be mildly concerning that the number of overseas entrants to British higher education declined in 2012-13 - which is the first numerical fall in 29 years (back in 1983-1984, there were fewer than 50,000 foreigners registered in full-time education in English universities, compared with more than 300,000 today).
Between 2010-11 and 2012-13, there was a fall of 1000 - or 1% - in the number of international entrants to full-time post-graduate programmes, compared with double-digit annual growth for years and years.
The change is statistically significant.
What's gone wrong?
Well, according to a study by the Higher Education Funding Council for England, students from the rest of the EU have been put off by the rise in tuition fees, while those from outside the EU, especially Indians and Pakistanis, have been deterred by new visa rules.
The changes in the flows of students from different countries are striking.
There was a 9% fall in enrolments for undergraduate courses from Nigeria, an 11% fall from Pakistan, a 13% drop from India and a 15% decline from Saudi Arabia.
For post-graduate courses, the biggest declines were 39% for Iran, 26% for India, and 20% for Pakistan.
The question is whether the UK is warding off security threats and future claims on the welfare state, by repelling students from these countries, or whether we are undermining entente with tomorrow's foreign leaders and simultaneously depriving ourselves of jolly useful earnings from abroad.
And to reinforce the idea that these trends are not trivial, entrants to English universities from India and Pakistan have halved since 2010 - while entrants from the rest of the EU to undergraduate courses in England fell by almost a quarter in the past academic year.
Here is what is perhaps particularly troubling - the structure of UK courses makes English universities particularly vulnerable to further falls in overseas enrolment in the near term.
The relevant point is that English courses tend to be shorter than those at universities abroad - which means that just to keep numbers up, English universities have to find replacements for more than half of all overseas students every year, compared with just a third in Germany.
So if, for whatever reason, foreign students en masse decided England was not the place for them, there could be a sudden and painful financial shock for the English higher education system.
And as another illustration of why this matters, around three quarters of all entrants to postgraduate masters courses in 2012-2013 came from outside the UK - post-graduate departments in England are hugely dependent on foreign students and foreign earnings.
What is really striking is that one nation, China, is almost as important to the funding of post-graduate education in England as England itself.
A staggering 23% of all entrants to post-graduate masters courses in 2012-2013 came from China, compared with 26% from the UK.
And as enrolments from India and Pakistan declined, a remarkable 28,930 Chinese people enrolled last year for post-graduate courses in England, a rise of 9% (and the total numbers of new entrants exceed 30,000, if Hong Kong citizens are included).
Including undergraduates, the total number enrolling from China last year was not far off 50,000.
There are some post-graduate course utterly dominated by the Chinese - they represent 58% of all entrants for post-graduate maths, 56% for media studies (which is intriguing, given that China is not exactly famous for having a free press), 47% for business, 39% (predictably) for engineering, 37% for both chemistry and architecture, and 35% for the creative arts.
There are three ways to look at those Chinese stats.
They show that post-graduate English education is that rare thing - an industry winning an important share of the huge and growing Chinese market (so hooray).
Or they show that we are naively training Chinese people to eat our economic lunch, and further stunt our economic growth in years to come.
Or we are training the enriching young Chinese how to enjoy a decadent life in the creative arts and media - and they'll soon lose their appetite for industrial warfare (big hooray).