Is there a tech bubble? Revisiting irrational exuberance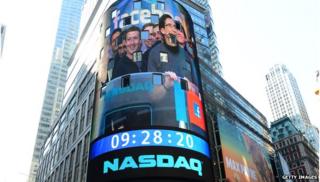 US stocks are soaring to new heights.
The S&P 500 has hit yet another record high, pushed up by consumer and technology stocks. It is continuing a trend from last year when it seemed that new records were being set nearly every month.
The Nasdaq, the stock index where tech companies are largely found, has hit the highest level since 2000. Recall that was during the dotcom bubble. When the bubble burst, the Nasdaq lost half of its value and plunged the US economy into recession.
Indeed, last year saw the most US public share offerings (IPOs) of firms since 2000. There were a total of 222 companies that went public and 45 of those firms, or about a fifth, were tech companies, according to Renaissance Capital.
Now, as markets are nearing those dizzying heights, is there a tech bubble? Or are these tech companies fundamentally different now?
Not as frothy
One gauge is the price-to-earnings ratio, which is a measure of how expensive the sector is compared with its forecasted earnings over the next year. The tech sector is trading at a multiple of around 14, which is below the 15-year average of 22.3, an indication that the sector may be undervalued.
Looking backwards, the price-to-earnings ratio based on trailing earnings is about 19 as compared with 29.7 in late 1999 when the Nasdaq first reached the 4,000 level. The price-to-book ratio is 2.6 versus 5.1 then, so prices relative to the book value of assets of these companies are half of what they were during the dotcom boom.
It suggests that the value of the stocks is more reasonable than during the heyday of "irrational exuberance". That was the term coined by former Fed Chairman Alan Greenspan...or Economics Nobel Laureate Robert Shiller (depending on who you ask) for the rapid rise of prices that seemed to diverge from the fundamentals of company earnings during the dotcom bubble.
After all, a stock price is supposed to be the present value of future earnings; in other words, it's what investors judge the company's earnings will be in the future. If there's a big gap between what the market says a company will be earning and what it currently earns, it makes you wonder if investors are piling into stocks because they're enticed by the tech boom. And that exuberance could be described as "irrational" if that pushes up stock prices and ends up in a bubble which bursts.
There are other signs that the market isn't quite as frothy as in 2000.
Unlike the S&P 500 and Dow Jones which have hit record highs, the Nasdaq is trailing and is still some 15% below the peak reached in 2000.
Also, the average technology IPO rose about 40% from its offering price through the end of last year. During 1999 and 2000, internet IPOs averaged a remarkable 88% rise on the first day of trading.
Of course, there have been some huge price jumps in some recent flotations - shares in Twitter soared 73% on the first day of trading.
But there have been falls. King Digital - the firm behind the Candy Crush smartphone game - dropped 16% on its debut in New York.
A bigger bubble?
It's also global tech companies this time.
Asia's biggest internet company is Chinese web giant Tencent, which offers WeChat and online services that are like Facebook, Twitter, Zynga and Tumblr all in one platform. After nearly doubling its share price in 2013, its shares rose by 28% this year to a record high in March. It was the best climber among Hong Kong shares - before then dropping by 13%, making it one of the worst performers within a month.
So, the next question is whether the companies now are different than in those of the 1990s?
Technology permeates our lives to a much greater extent, and a wide range of companies - regardless of sector - invest in tech.
Could all companies even be viewed as tech companies in some respects if investors are judging firms - car companies like Tesla and even banks on their online payment systems - on the basis of their innovation?
However, there are still internet companies that have not made money which are among the hottest IPOs, such as Twitter and Weibo, China's version of Twitter.
And it's always dangerous to say that this time is different.
What won't be different is that there will be an impact on the global economy, which in the US is only just now recovering enough for the Fed to begin to cut back on monetary stimulus.
When the bubble burst last time, the US economy fell into recession and dragged parts of the rest of the world with it. The Fed cut interest rates then to stimulate the economy.
As interest rates are now at virtually 0%, there is less room than before to help the economy.
In other words, if there is a bubble and it bursts, what's left in the toolbox of central banks will be sorely tested.