Scottish farm incomes 'fell by 34% in 2012'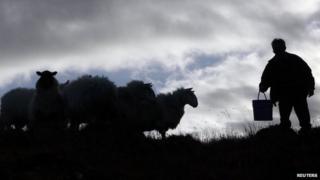 The average income for Scottish farms fell by 34% in 2012, according to an annual study.
Figures released by Scotland's chief statistician suggested that the average farm's income dropped to £30,000.
Increased running costs, a fall in value of both crop and livestock, and poor weather were blamed for the decline.
Despite the fall in income, the average net worth of Scottish farm businesses was largely unchanged at £1.3m.
The yearly report showed that a rise in the cost of animal feed was a key factor in increasing running costs for most Scottish farms, with an average rises of 19% being reported.
The fall in output value was due to an average £4,000 drop in the value of crop production other than cereals and potatoes, with poor weather seen as a key contributing factor to this fall.
There was also a reduction in the value of sheep, which helped push the income of some farms down to £20,000.
Falling incomes
Incomes fell across all farming sectors with the exception of general cropping businesses, which saw a 10% rise in profits from £52,000 in 2011 to £55,000 in 2012.
Farms also relied more heavily on using unpaid labour from owners, family members and business partners.
A conversion of income figures showed that the income generated from almost half of businesses (43%) would not have made enough to meet the minimum agricultural wage. This includes the one in five farm businesses that made a loss, up from one in ten in 2011.
The figures also showed farms placing an increased reliance on other sources of income, including hosting mobile phone masts, tourism and additional support from grants and subsidies.
Commenting on the figures, Rural Affairs Secretary Richard Lochhead said: "These figures confirm what we already know - that the 2012 season was extremely tough going for almost all farming sectors in Scotland and across the UK. It also shows the cyclical nature of farming, where some good years are followed by less good years.
""All the indications are that 2013 was a much better year for Scottish agriculture, as shown in the Total Income from Farming 2013 statistics, and my expectation is that this will be reflected in next year's Farm Business Income report.
"However, the fact that cattle and sheep farms, both lowland and upland, saw such a significant fall in income is particularly concerning and highlights how important it is we have the right support in place for our farmers and crofters in the next CAP."