Mobile phone banking transactions double in a year, BBA says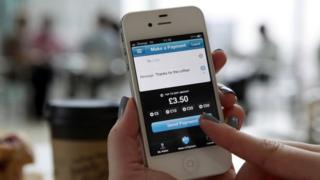 A "revolution" in mobile banking use is under way in the UK, the British Bankers' Association (BBA) has said.
Mobile banking app use for customers at the five major UK High Street banking groups almost doubled over the past year, BBA figures suggest.
Customers now make 5.7 million transactions a day using smart phones and other mobile devices.
Local branch closures due to declining demand for day-to-day banking are the "direction of travel", the BBA said.
Nevertheless, a number of branches will remain open for "big moments" in life such as arranging a mortgage.
"There's an amazing revolution in the way people are banking," BBA chief executive Anthony Browne told the BBC.
People are increasingly using mobile banking for day-to-day transactions like checking their balance, paying bills, and taking out loans, he said.
"The reason why it [mobile banking] has grown so much is just that it's a lot more flexible," Mr Browne said. "It's driven by customers - they can do it any time of day or night. You can pay a bill while at the pub - that sort of thing."
Visits to branches are declining overall due to alternatives such as online banking, but branches "are here to stay", Mr Browne said.
"They [branches] are an integral part of the industry," he said. "They will be more focused on the big decisions - taking out a mortgage, taking out a big business loan, where you need to have a face-to-face interaction."
He added that Post Offices also offer basic banking services, if people have trouble getting to a bank branch.
Since 1989, the UK has lost over 40% of its bank and building society branches, in part due to the rise of phone and internet banking, a 2013 Nottingham University study found.
Payment platforms
Mobile payments platforms are gaining ground in the UK and elsewhere.
The UK banking industry will launch its Paym (pronounced pay em) mobile payments system later this year.
The platform is designed to allow people to identify a recipient for payments by using a mobile phone number.
Since 2007, a mobile money payment system called M-Pesa has become popular in sub-Saharan Africa.
In Kenya over 50% of the population use the service to transfer money and pay for goods and services.
The collaboration between mobile giant Vodafone and Kenya's Safaricom has almost 17 million users and makes monthly transactions of over 900 million euros (£744m), according to Vodafone.
The service was launched in Kenya, then Tanzania, Fiji, South Africa, and the Democratic Republic of Congo between 2007 and 2012.
On Monday Vodafone brought the service to Europe with its launch in Romania.
"The majority of people in Romania have at least one mobile device, but more than one third of the population do not have access to conventional banking," said Vodafone director of mobile money Michael Joseph.