Toyota employees refuse to return to work at India plants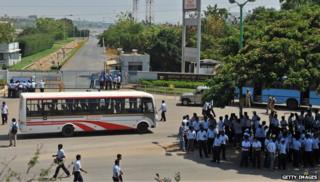 Workers at Toyota's two Indian plants have refused to return to work this week, after the Japanese car firm said it was ending a lockout that it had instituted on 16 March.
Toyota locked out the workers because the firm said they were disrupting production and threatening managers.
The conflict stems from wage negotiations, which have been continuing for the past 10 months.
About 4,200 of the two plants' 6,400 employees are not working.
The union representing the workers says that they are holding out for pay increases, and that they are also demanding Toyota reinstate 30 workers who were suspended last week.
The union is asking for a pay increase of at least 4,000 rupees ($65; £39) a month, while Toyota says it can only increase pay by 3,050 rupees ($50), because of weak car sales in India.
No deal
Last week, Toyota announced it would resume production at the two facilities, which are located outside Bangalore and produce about 570 cars a week between them, including the Camry and Corolla models.
It said workers were welcome to return, as long as they signed a contract promising good conduct.
However, most union workers at the Toyota Kirloskar units have not signed the document. Unionised workers represent about 65% of the total workforce of the plants.
Toyota said in a statement on Tuesday that it had resumed production "with the help of non-unionised team members, of whom majority are supervisors and engineers".
It denied reports that it was using apprentices to fill in gaps in the production line.
India accounts for just 1.6% of Toyota's global car sales. Toyota is the world's largest car maker by sales volume.