Pension fees cap is set for 2015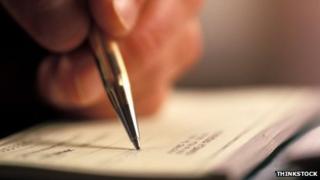 Management fees charged by pension providers will be "put in a vice" and capped from April next year, Pensions Minister Steve Webb has said.
The cap - set at 0.75% - will be significant for millions of people who are being automatically enrolled into workplace pension savings.
However, the new rules are taking effect a year later than originally suggested.
Pension providers also warned that it could lead to less choice for savers.
Investigation
Mr Webb had vowed that the government would launch a "full frontal assault" on pension fees.
The confirmation of a charge cap comes on the same day as new rules come into force giving people more access to their pension savings on retirement.
The government said that the latest announcement, made to the Commons on Thursday, would save tens of thousands of pounds for those setting money aside during their working life.
A consultation considered different levels for a charges cap, with the decision now made to set this at 0.75% of the funds being managed.
Some older schemes set up more than a decade ago have been found to charge up to 2.3% a year in management fees.
The average charge on a pension set up in 2012 was 0.51%, but the Office of Fair Trading (OFT) estimated that there were more than 186,000 pension pots with £2.65bn worth of assets subject to annual charges of more than 1%.
In September, the OFT published a report criticising pension schemes containing £40bn worth of savings that were delivering "poor value for money".
'Pressure tightened'
In addition to the cap on fees, the government will:
Ban payments for sales commission being deducted from pensions
Outlaw a rise in charges for those who have left a company, but leave money in the pension scheme
Ban consultancy charges that see pension scheme members paying for advice given to their employer by a pension provider
"We are going to put charges in a vice; and we will tighten the pressure, year-after-year," Mr Webb said.
Since October 2012, workers have been gradually signed up to workplace pensions, such as the government funded National Employment Savings Trust (Nest) scheme, unless they deliberately opt out.
Over the next five years, nine million extra people are expected to join so-called "defined contribution" schemes.
But one pension firm said the government's cap on charges could make providers more choosy about who they offered the best deals to.
"This could result in employees being faced with less choice, inferior products and a lack of ongoing service," said Sean McSweeney, of Chase de Vere.
The delay in bringing the cap into force was criticised by Labour.
Gregg McClymont, Labour's shadow pensions minister, said: "Savers hit by the cost of living crisis have lost out because the government has repeatedly delayed plans to introduce a cap on rip-off pension fees and charges.
"Today the government has finally admitted that a charge cap is needed but ministers must have the courage of Labour's convictions and introduce a cap now as they promised."
The delay was supported by some in the industry.
"There is a huge amount for the pensions industry to deal with at present, not least as a result of last week's Budget announcement, so it is entirely sensible that the government has given the industry some reasonable time to accommodate these changes," said Tom McPhail, of Hargreaves Lansdown.
But the Neil Carberry, CBI director for employment and skills, said: "We do not think capping fees at this level is wise, especially as schemes will now have to provide expensive advice to every member following last week's Budget."