Wheat prices rise on Crimea and Ukraine worries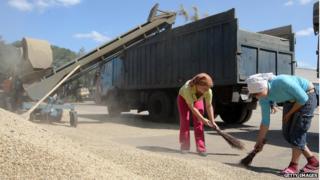 Fears of political instability in Crimea and Ukraine have helped push up wheat prices since February.
Ukraine accounts for some 6% of the of the world's wheat export market, while Crimea produces 7% of those exports.
Freezing weather in the US and drought conditions elsewhere have added to worries about shortages.
Wheat futures for May delivery on the Chicago Board of Trade are just under $7 (£4.20) a bushel compared with $5.50 in late January.
However, there are no reports that the political standoff over Ukraine has affected physical shipments.
Nitesh Shah, analyst at the investment firm ETF Securities, said: "There has not yet been a disruption to getting wheat out of the region. But that does not mean there won't be any problems.
"Combined with Russia, Ukrainian wheat makes up 17% of global exports. If there are sanctions, restrictions on Russian wheat or disruptions in Ukraine that could have a further upward effect on prices."
Weather worries
However, many commodities analysts say the weather is more of a concern.
Drought conditions in Ukraine, Russia and the US southern "wheat belt" are also helping push up prices.
Mr Nitesh added that an "El Nino event", a warming of the Pacific waters off the South American coast, may take place in the spring or summer, bringing warmer and wetter weather to the US, boosting production.
He said: "An escalation in Ukraine is the focus at the moment, and could push prices up further.
"But an El Nino event might reverse price gains, depending on its intensity, even though it can also create droughts in China and Australia."