Retail sales bounce back with 1.7% rise in February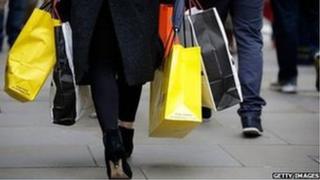 Retail sales rose by more than expected in February, official figures have shown, bouncing back from January's post-Christmas slump.
Sales volumes rose 1.7% last month after falling by a revised 2% in January.
Sales in February were 3.7% higher than a year earlier, the Office for National Statistics said.
Economists had expected retail sales to improve, but only by 0.5% in February and 2.5% on the year.
And retail prices fell for the first time in four years, down 0.2% on a year ago, helped by a 4.4% fall in fuel prices.
The figures come two days after inflation was shown to have fallen to 1.7% - its lowest level since October 2009.
There was also a small rise in wage growth, meaning the gap between the two is at its narrowest since April 2010, the ONS said this week.
Online sales
In the three months to the end of February, sales were 1.6% higher compared with the previous three months, marking the best performance since August.
Meanwhile, the strong growth in online sales last month continued, up 2.5% on January and 12.4% on a year earlier.
Sales at supermarket stores contributed more than half the growth in retail sales, the ONS added. Despite this the grocery market has been growing at its slowest rate since 2005.
Consumers have led the UK's economic recovery in the past year despite the continuing squeeze on household incomes, resulting from slow wage growth and high inflation in recent years.
In part that has been driven by the recovery in the housing market and improved access to credit in the past year.
Last week, clothing retailer Next warned Britain's recovery was being driven by an "unsustainable pick-up" in consumer borrowing.
On Tuesday a report from the Confederation of British Industry showed February retail sales grew at their slowest pace since November, blaming the timing of Easter and Mother's Day for the slowdown in activity in the month.
Its survey of 106 companies found 13% of retailers reporting sales volumes were higher in the year to March.