Annuity market to shrink by £9bn, says L&G boss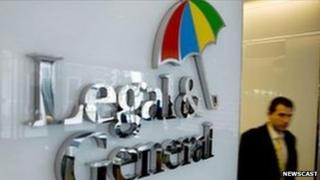 The annuities market will shrink to a quarter of its current size owing to the shake-up of the pensions system, the boss of one of the UK's largest insurance companies has said.
Nigel Wilson, chief executive of Legal and General, said that the market could shrink from nearly £12bn now to about £2.8bn after 2015.
The new system will abolish the requirement for some people to buy an annuity - a retirement income for life.
Pension pots can be taken in cash.
Under the Budget proposals, from next year millions of people reaching retirement age will be able to spend their pension pot in any way they want, including cashing in their pension savings in one taxed lump sum.
Mr Wilson said that Legal and General expected retirees to take more of their savings in cash and rely more on their property as a source of retirement income, rather than buying an annuity.
"We certainly expect to see more cash being taken out, either singly for small pots or across several years, and we expect to see more use of the housing asset as pots get depleted more quickly," he told an investor conference.
His comments come shortly after a warning from another insurance company about the extent of pension savings.
Nigel Barlow, director of product development at Partnership Assurance Group, told BBC 5 live that the average pension pot was £30,000 from which retirees would not get much income, irrespective of annuity rates.
"Annuities have had a bad name in certain areas. What has happened is people have not been encouraged to look for the best deal," he said.
The full changes to pension pot rules will be implemented in 2015, under government plans. However, temporary rules easing some of the current restrictions come into force on Thursday.
Insurers have expressed concern that all the details that could impact on customers' retirement choices had yet to be ironed out.