Treasury to sell more Lloyds shares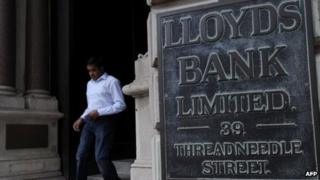 The government has announced plans to return more of Lloyds Banking Group to the private sector.
UK Financial Investments (UKFI), the body responsible for the government's stakes in banks, said it intended to sell another 7.5% of Lloyds to investors.
It sold 6% of the bank last year. The latest sale will reduce its overall stake in Lloyds to about 25%.
Lloyds was bailed out by the government at the height of the financial crisis.
The share sales are part of the government's longer-term plan to return the lender fully to the private sector.
In a statement, the Treasury said its objectives for its shareholdings in banks were "getting the best value for the taxpayer, maximising support for the economy and restoring private ownership".
"The government will only conclude a sale if these objectives are met."
The sale of the 6% stake last year raised £3.2bn. At current prices the latest share sale is expected to be worth some £4.2bn.
The government paid an average of 73.6p for Lloyds shares at the time of the bank bailouts, when it pumped a combined £66bn into Lloyds (formed from the merger of Lloyds TSB and HBOS) and Royal Bank of Scotland.
The price of shares in the latest sale is expected to be above that 73.6p price.
UKFI is expected to sell more shares later this year. So far, sales have only been to institutional investors, but future sales may include private retail investors.