Albemarle & Bond appoints PwC as its administrators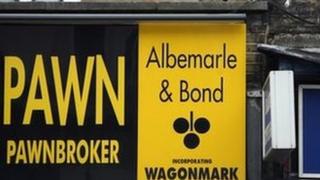 Loss-making UK pawnbroker Albemarle & Bond has appointed PricewaterhouseCoopers (PwC) as its administrator.
The move comes after its lenders said proposed business rescue plans were not viable.
Albemarle & Bond said it would not request an extension to its 31 March deadline to repay outstanding loans to its lenders.
Trading in the firm's shares was suspended on Monday.
The group has 183 stores and employs 1,000 staff.
Its move came after the firm warned there was "no realistic prospect" of its shares, which have fallen 97% in the last year, having any value.
"In the absence of any other available facilities from its lenders or elsewhere, the company will shortly be unable to meet its liabilities as they fall due," it said in a statement.
It added that the appointment of an administrator was "the most appropriate course of action".
Job cuts
Mike Jervis, Peter Dickens, Toby Underwood and Stuart Maddison at PwC have been appointed as joint administrators.
Mr Jervis said: "We plan to sell all or part of the business to protect as many jobs as possible and we have already paid, or will be paying all staff - including accrued bonuses - as normal in March."
He said some redundancies "may be necessary", depending on whether they can sell the business, but stressed "every branch" would initially remain open during talks.
Mr Jervis added: "The group and PwC are doing all that they can to support employees through this difficult time and will work with government agencies in order to support anyone affected by potential redundancies."
Melt-down
Albemarle & Bond put itself up for sale in December, but said none of the proposals it had received represented fair value.
It has been hit by the fall in the price of gold, and had been attempting to turn itself around by slashing costs.
Last year it closed 33 pop-up gold stores, and in November admitted it had resorted to melting down its gold jewellery stocks to raise cash.
Shortly afterwards it suffered a mass exodus, with five of its six non-executives quitting.
The company was founded in Bristol in 1983.