Payday loan advert ban on children's TV ruled out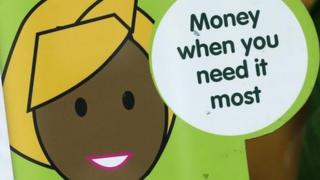 Payday loan adverts could still be aired on children's TV despite a call from a committee of MPs for a ban.
A report by the Business Select Committee said adverts could expose children to the idea that these short-term, high interest loans were "fun".
But the government's response to December's report said adverts already faced "strict content rules", so a law change looks unlikely.
The committee's chairman Adrian Bailey called the response "very weak".
However, major lenders have always said that advertising on children's TV was against their code of practice.
'Track record'
Figures from regulator Ofcom showed that children aged four to 15 saw three million payday loan TV adverts in 2008, but this had grown to 596 million in 2012, accounting for 0.7% of adverts seen by this age group.
Yet only 3% of payday loan adverts seen by four to 15-year-olds were on children's channels, equivalent to two per child on these channels over the year.
Citizens Advice and Labour leader Ed Miliband have already called for a ban of these adverts on children's TV.
The government's response to the Business Committee's report did not back that suggestion.
It said: "The ASA [Advertising Standards Authority] will not hesitate to ban irresponsible adverts, and has a strong track record in doing so," the government response said.
The Financial Conduct Authority (FCA), which takes over the regulation of payday lenders on 1 April, said that any ban would need to be prescribed by law and comply with Human Rights rules that safeguard freedom of expression.
It said it was focused on ensuring that adverts were "clear, fair and not misleading".
Mr Bailey, who chairs the committee which conducted a high-profile hearing with payday lenders and consumer groups, said he was disappointed.
A review of the ASA's powers in regulating payday loan adverts is, however, taking place.
'Health warning'
The FCA also appeared to rule out the committee's call for a reduction in the number of times people could "rollover" a payday loan from one month to the next.
The committee wanted a big restriction allowing just one rollover, but the FCA is planning a limit of two. The industry maintains that rollovers are not necessarily a sign of financial vulnerability.
The FCA and the committee did agree on a number of issues surrounding payday loans, including the need for a "health warning" on payday loan adverts.
The regulator said this should say: "Warning: Late repayment can cause you serious money problems. For help, go to www.moneyadviceservice.org.uk".
Mr Bailey said: "We welcome the acknowledgement of the problems that can be caused by payday loans, but there does not seem to be the drive to take the necessary measures that will make an impact on the issue."