Co-op Bank to raise extra £400m after hole discovered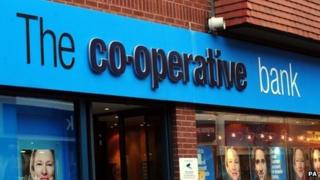 The Co-op Bank plans to raise another £400m by issuing new shares following the discovery of additional costs related to past misconduct and poor documentation.
The biggest part of the additional costs relates to PPI mis-selling and lapses in the provision of mortgages.
The bank said the discovery meant it would make a loss of £1.2bn to £1.3bn for 2013.
It will release its full accounts in April.
"The starting capital position of the bank for the four to five year recovery period is weaker than in the plan announced last year," said chief executive Niall Booker.
Mr Booker said the issues had already been discovered in its Liability Management Exercise prospectus, but said it was only now quantifying the financial impact of some of the risks.
"When I heard about this my jaw dropped because I did think that at last this was a bank on the way to recovery," said BBC economics editor Robert Peston.
Rescue
The Co-op Bank had to be rescued last year after it was left with a £1.5bn capital shortfall, with many of its troubles stemming from the merger with the Britannia building society in 2009.
In November last year, it announced that a group of private investors, made up mostly of hedge funds, would inject nearly £1bn into the bank in exchange for a 70% ownership stake.
Later that year the company was hit by a separate scandal when its chairman Paul Flowers was arrested in connection with a drugs supply investigation.
The group is cutting staff and selling off parts of its business in an effort to survive.
'Simplify'
The Co-operative Bank said that as of the end of 2013, it had cut 1,000 staff equating to about 14% of its total.
It also said it had reduced its non-core assets by around £2bn.
It said raising the extra £400m would enable it to continue with the execution of its original business plan.
"We have started to simplify the business, reduce costs and de-risk assets as we drive the change needed to return to our roots as a bank focused on our retail and SME customers," added Mr Booker.