Energy firms need investigating, say consumers and firms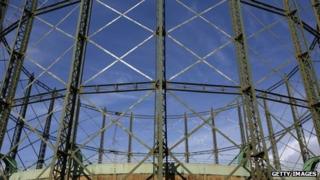 Consumer group Which? and the Federation of Small Businesses (FSB) are asking regulators to investigate the "broken" energy market.
The two groups say nine out of 10 consumers think it needs probing.
Which? and the FSB have written a joint letter to the Office of Fair Trading, energy watchdog Ofgem and the new Competition and Markets Authority.
The "big six" power firms are already braced to hear whether they will face a full competition inquiry.
The three leading regulators have spent the past three months reviewing the way the market works and could report their conclusions within days.
That could be followed by a full competition inquiry.
Which? and the FSB say rising energy bills are a "major concern" for small businesses.
The wholesale energy market should be fully investigated by competition regulators, Which? executive director Richard Lloyd told the BBC.
"It's the wholesale prices that are being passed through to consumers and small businesses, and making people struggle with their bills," he said.
The "big six" energy companies supply 95% of the domestic market, and 70% of UK electricity is generated by the companies, Mr Lloyd said.
"What we're saying to regulators is: 'You haven't addressed the uncompetitive nature of the wholesale market'," he added.
Trust
Faith in the industry is very low, according to Which? and the FSB, with only one in five of those surveyed saying they trust their energy companies.
The letter from the two bodies says: "For too long the lack of competition in the energy market has not been addressed. It is now time for radical changes that deliver an effective, competitive market that works for everyone, before the scale of this crisis worsens.
"We want to see the presence of strong competition right across the industry drive affordable pricing that gives everyone the confidence they are paying a fair price for their energy."
Last month Ofgem told the "big six" energy firms they must trade fairly with small energy suppliers or face heavy fines.
The firms, such as E.On and British Gas, will have to publish wholesale power prices two years in advance.
The regulator said its plan would make it easier for new suppliers to enter the market, and would improve the transparency of companies' accounts.