Tesco signs deal to enter India's supermarket sector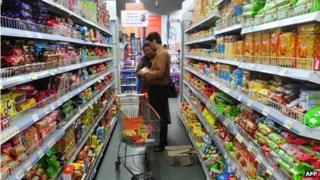 Tesco has signed a deal to become the first foreign supermarket to enter India's £330bn ($500bn) retail sector.
The retailer has agreed a joint venture with Trent Hypermarket Limited (THL), a unit of India's Tata Group which runs the country's Star Bazaar chain.
Tesco will invest about £85m in the 50-50 deal, following Indian government approval.
Until two years ago, foreign retailers had been banned from investing in the country's retail sector.
Under the deal, THL will operate 12 supermarkets under the Star Bazaar and Star Daily banners in southern and western regions of India.
Tesco, which is the world's third largest retailer and the UK's biggest, has had an agreement to supply merchandise and technical support to THL since 2008.
Rules relaxed
But it is now the first foreign firm to take a stake in an Indian retailer, 18 months after the country's government opened up the sector to global supermarket chains.
International firms are now able to buy up to a 51% stake in multi-brand retailers, but the decision has led to much opposition in the country.
The move to relax the rules in September 2012 came after a similar decision, in November 2011, was scrapped following widespread protests.
Rules stipulating that foreign supermarkets had to source 30% of their products from local firms were eased in August 2013 amid fears the rule was blocking investment.
The requirement remains, but foreign firms now have five years to hit the 30% target, allowing them to import goods from overseas initially.