Sanctions: Potential economic damage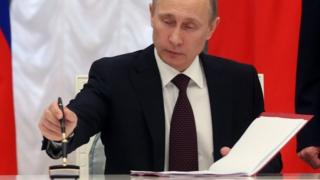 Russia, already teetering on the edge of recession, has a lot to lose from any economic sanctions imposed by Europe and the US - as does Europe, experts say.
The tense stand-off between Russia and the West over Crimea and Ukraine has led to sanctions being imposed on members of the Russian elite by the EU and the US.
US president Barack Obama has signed an order enabling economic sanctions against sectors of the Russian economy, and EU leaders are meeting in Brussels to consider their options.
"Russia can lose immensely out of this," says Paul Ivan, an analyst at Brussels-based think tank the European Policy Centre. "They are much more dependent on the European economy than we are on them."
Over half of Russia's budget comes from gas and oil it sends to the EU, making it vulnerable to any economic sanctions involving fossil fuel exports, Mr Ivan says.
By contrast, around 25% of European Union gas comes from Russia.
EU member states are linked to gas supplies flowing from countries such as Norway, making them less vulnerable to fluctuations in supply from Russia.
A situation similar to 2009, when Russia turned off gas to the Ukraine in a dispute over payments, would be unlikely to have as much of an impact on member states.
The EU on Friday said it wanted to reduce reliance on Russian energy.
"We are serious about reducing our energy dependency," EU Council president Herman Van Rompuy said. "Europe was first built as a community for coal and steel. Sixty-four years later, it is clear we need to be moving towards an energy union."
Investors 'freaked out'
European investors have been alarmed by ongoing events in Ukraine and in Russia.
There have been talks in the upper house of Russia's parliament to allow property and assets of foreign businesses to be seized in the event of international sanctions.
"If I heard talk of assets being nationalised I would probably look for a more stable market," says Mr Ivan.
European investors have been "pretty freaked out" by the situation in Ukraine and have lobbied EU ministers not to impose economic sanctions, he says.
Russian shares fell on Friday on the prospect of economic sanctions.
Economies 'intertwined'
Economic sanctions against Russia, which would probably not have a huge impact in the US, could potentially have a large negative impact on Europe, says Mr Ivan.
"The economies are intertwined, so clearly, EU economies would be affected by this," he says.
Sanctions such as those already imposed against Russian bank Rossiya could risk seizing up monetary transactions in European banks, according to FTSE insurance and advisory company JLT.
"European entities will be hit at a time when European banks are still fragile," says JLT head of credit and political risk analysis Elizabeth Stephens.
For example, unpaid letters of credit and underperforming loans could snarl-up European banking, she says.
Ukraine could lose out if investors pull out of energy projects.
"Chevron, Shell, and BP had contracts worth millions of dollars," she says. "Whether investment will go in to start developing those gas fields is unclear."
European countries also stand to lose out individually if economic sanctions are brought in. For example, France wants Russia to buy warships, and the UK wants Russians to buy property, Ms Stephens says.
The EU and the US are keen to pursue diplomacy, and are unlikely to get to the point where they impose a full economic embargo, Mr Ivan says.
Nevertheless, sanctions could cause the Russian economy to contract, and may have serious implications for the whole of Europe.