Cash flow is king for tech savvy small businesses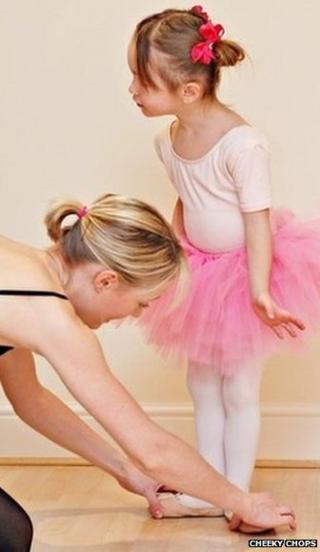 The Decorus Academy ballet school in Bedfordshire has struggled with late paid invoices, just like many small businesses.
According to owner Laura Pendlebury, students would forget to bring their money in before the start of term and she'd have to spend weeks chasing them up.
"When you've outgoings like premises and heating, late payments can be a real problem," she says.
"If I had a receptionist to help me out, it might have been different, but that kind of overhead isn't feasible for me."
Luckily help was at hand in the form of an app called Zapper Scan-to-Pay.
Through the system Laura attaches a specially created QR code to her invoices that contains payment information. Customers then scan the code using their smartphones, confirm the amount and pay in seconds.
"It's super-quick, much easier than logging into your bank," she says. "Obviously some people don't have smartphones, but they're the minority."
Monies owed
The ballet school says it's now fixed the late payment problem, but many others aren't so fortunate.
According to payment systems provider Sage Pay, nearly two-thirds of UK businesses experience late payments of 90 days or more, with invoices worth £55bn ($91.5bn; 66.5bn euros) remaining unpaid or outstanding.
Firms spend on average two weeks a year chasing them.
And in January, the Federation of Small Businesses (FSB) reported that more half of 8,000 surveyed members who provided goods or services to larger private sector businesses had been paid late in the previous 12 months.
"Late payment means reduced profitability, knock-on late payments to suppliers, and reduced business growth," an FSB spokesman said.
"Thousands of small firms even go bust each year purely because the cash flow dries up, not because there's anything wrong with the underlying business."
The good news is that a host of new software platforms are helping to ameliorate the problem.
Take Basware and Tradeshift, for example, which enable companies to issue or pay invoices securely via the cloud.
According to Andrew Jesse, vice-president of Basware UK, "e-invoicing" makes the process more transparent and reduces the time it takes to get paid.
"Often late payments are due to a breakdown in the invoicing process - for example the non-receipt of an invoice, not quoting a purchasing order, or an incorrect address," he says.
"But e-invoicing gives the supplier certainty, and if there are queries on the invoice, these can also be dealt with electronically."
Faster payments
Invoicing isn't the only payment process being streamlined for small-to-medium-sized businesses (SMEs).
Square, a credit card reader that connects simply to a smart device, is proving a boon for merchants who want to take payments on the hop.
Platforms such as PayPal now have app versions too, reducing a merchant's reliance on cash or card.
And affordable cloud accounting programs, such as Wave and Xero, are simplifying tedious payroll and book-keeping tasks.
"Another interesting add-in is something like Receipt Bank that allows the business owner and employees to use a smartphone app to photograph and submit expense receipts on the go," says Simon Hammerschmidt, director of consulting for KPMG's national market practice.
The receipts are posted straight to your accounting system, "ready for your accountant to see in your ledgers - no onerous transaction entries required", he says.
Cash in the cloud
The advent of cloud computing has made such technology much more accessible to small businesses, he says. No longer do you have to go into the office to check the latest sales figures or submit expenses - these tasks can be performed anywhere with a laptop and a decent wi-fi signal.
The cloud has also brought down the cost. In the past, a small business would have to pay for software and hardware upfront and then incur costs maintaining them.
But with the cloud "businesses can pay for what they need on a monthly basis without worrying about adding new storage or undertaking time-consuming upgrades," says Mr Hammerschmidt.
Despite the advances, some are still reluctant to dive in. According to Sage, 67% of small businesses say they prefer paper invoicing. One explanation may be the perceived complexity of technology, says Lee Perkins, managing director of the firm's small and start-up business division.
"Many small businesses believe that using [accounting] software requires prior knowledge in accounting or payroll and therefore that they might need to employ an expert to be able to use the software," he says.
"For this reason, there's often a perception that it's easier and more time and cost effective to outsource to an accountant."
'Worth a shot'
The FSB has called on local enterprise partnerships - between local authorities and businesses - to help, by providing more technology training and support for SMEs. It's also published best-practice guidelines on how to use technology.
It believes SMEs can learn a lot simply by observing what other businesses do. And for those fazed by the array of solutions out there, suppliers often offer free trials so you can try before you buy.
With payment bugbears likely to remain, it seems it's up to SMEs to find the solution that works for them. That may be daunting, but the pay-off is worth it, says Decorus Academy's Laura Pendlebury.
"I was spending so much time chasing small fees, I wasn't really focused on the business," she says.
"But now that I get most of my payments in before the start of term, it's a massive benefit. It was definitely worth a shot."