Co-op distribution centre jobs face closure threat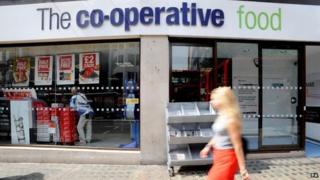 The Co-op Group is consulting with its employees over plans to close a logistics centre in Huntingdon, Cambridgeshire.
The move may lead to the loss of more than 100 jobs. There may also be further job losses in County Durham.
Over four years, the Co-op Group is planning to cut running costs by £500m, of which it has already identified £100m of savings.
To achieve these cuts, there are likely to be thousands of job losses.
'Efficiencies'
The company, which is owned by its customers, was forced to give up full ownership of its bank after losses wiped out most of its capital.
The Co-op's logistics department, which supplies its food stores, employs 6,200 people. About 120 jobs are at risk at the Huntingdon site, which supplies about 200 stores.
The company said in a statement: "As part of our programme of continuous improvement for our supply chain, and to drive efficiencies and deliver a cost-effective quality service to our stores and customers as part of our overall food strategy, we are proposing a number of changes to our distribution network.
"Due to ongoing surplus capacity at our Huntingdon depot we are proposing to close the site by the end of the summer, with all work transferring to our depots at Castlewood, Thurrock and Andover. Regrettably, some 123 Huntingdon employees would be at risk of redundancy."
'Regrettable'
Forty jobs may also be cut at the Co-Op's Birtley site in County Durham, said the company.
"We are currently not in a position to confirm details overall, but, whilst the anticipated job losses at Huntingdon and Birtley are regrettable, a similar number of jobs would be created in other depots across the network.
"However, any colleagues affected by the proposed changes will be given every support to find an alternative role within the Co-operative Group, or with another employer."
"We understand the position the Co-Op is in and the cut-throat nature of the retail sector,'' said Unite national officer Adrian Jones.
"We will work with the company to try to mitigate job losses."