China Mobile profits fall for first time in 14 years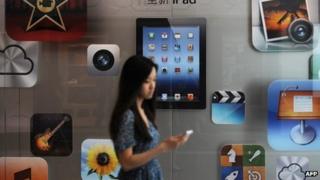 China Mobile has suffered its first fall in annual profits in 14 years as Tencent Holding's mobile messaging app service WeChat ate into its revenues.
The world's largest mobile phone network saw net profit fall 5.9% to 121.8bn yuan (£11.8bn) last year.
Quarterly profits were also lower at 30.3bn yuan (£2.9bn).
It said it would spend more this year on its 4G mobile network and believes customers will spend more on data to connect to services like WeChat.
China mobile also blamed falling revenue from text and multimedia messages, which fell 6.5% to 41.3bn yuan in 2013.
The mobile phone giant plans to increase spending by 22%, to 225.2bn yuan to expand its 4G service, which launched in December, and on continued iPhone handset subsidies.
Like WhatsApp, which was bought by the social networking site Facebook for $19bn last month, WeChat, allows customers to use the internet to avoid paying charges to send text and picture messages, formerly a lucrative source of revenue for mobile phone networks.
Digital revolution
China Mobile's subsidies for the iPhone, and the plan to increase spending, combined with government proposals to extend VAT to mobile phone networks, may all weigh heavily on China Mobile's future profits as it tries to reinvent itself in the mobile internet era.
But the company said it remained optimistic that customers would use larger amounts of data as more people start to use applications like WeChat.
While it said revenue from data services rose 24% to 206.9bn yuan last year, voice revenue, which accounts for the majority of sales, shrank 3.4% to 355.7bn yuan.
China is the world's biggest smartphone market with more than 500 million mobile internet users.
Tencent's hugely popular WeChat app, known as Weixin in China, has 355 million monthly active users.
The mass adoption of smartphones has led to an explosion in the use mobile data, which has pushed China Mobile's average revenue per user (ARPU), a key industry measure of performance, down to 67 yuan in 2013 from as high as 71 yuan two years earlier.