New Zealand economy sees growth of 2.7%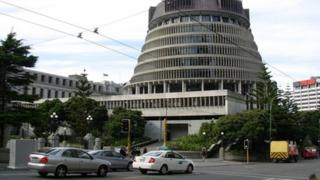 New Zealand's economy grew by 2.7% last year official figures have shown, making it one of the fastest growing nations in the developed world.
Statistics New Zealand said output grew by 0.9% in the three months to December. That marked the country's 12th consecutive quarter of growth.
Manufacturing grew by 2.1%, - its fastest rate of growth since 2006.
The figures were unlikely to change the Reserve Bank of New Zealand's policy of tightening interest rates.
New Zealand became the first country to raise interest rates since 2012 this month, when it increased the official bank rate by 0.25 of a percentage point to 2.75%.
'Momentum'
The bank said rates no longer needed to be held at record lows in an economy that was growing with "considerable momentum", predicting they could reach 4.5% over the next two years as it moves to rein in inflation.
Finance Minister Bill English said there was solid growth across the entire economy, pointing out the quarterly growth figures outpaced those of the US (0.6%), the UK(0.7%), Canada and Australia (0.8%) and Japan (0.2%).
Mr English, whose government faces an election in September, added the country was reaping the benefits of successful fiscal management.
"Business and consumer confidence remains high, manufacturing activity has been expanding for almost a year and a half and the current account deficit is less than half of what it was five or six years ago," he said.