Tencent shares drop on concerns over WeChat growth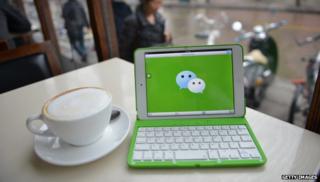 Shares in China internet giant Tencent dropped more than 4% before recovering after the firm reported slowing growth in its messaging app WeChat.
On Wednesday, Tencent said profits for 2013 were 3.9bn yuan ($641m), a 13% increase from the year before.
However, growth in its Weixin/WeChat user base slowed to just 6% over the year.
Total users now number 355 million, compared to 270 million in 2012.
Although revenue increased by 38% from a year before, profits were hurt by increased selling and marketing costs as the company seeks to promote its games, e-commerce sites and WeChat.
The total spent on selling and marketing increased by 39% to 2.03bn yuan ($327m).
In order to appease investors, Tencent announced a stock split, where each current shareholder would get five shares for each one they already own.
Tencent has been the best performing stock on Hong Kong's index since it went public in 2004.