Budget 2014: 'Pensioner bonds' to be launched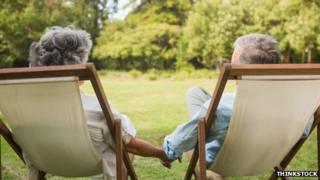 A new bond for the over-65s with an interest rate of up to 4% has been announced by Chancellor George Osborne.
The "pensioner bonds", issued by National Savings and Investments, will launch in January 2015 with an investment limit of £10,000 each.
Interest rates are yet to be set, but current estimates are 2.8% for a one-year bond and 4% for a three-year one.
The bonds will be taxed like any other savings, with those exempt eligible to receive the interest tax-free.
Up to £10bn worth of the new bonds will be issued.
The highest rate currently offered on any bond by the NS&I is 2.5%, for children's bonds.
Chief Secretary to the Treasury, Danny Alexander, told the BBC that the new bonds were a way of helping those who have seen the value their savings "eroded by the low interest rates that have been an absolutely necessary part of this government's economic plan".
Jane Platt, NS&I's chief executive, said: "The launch of a market leading savings bond for people aged 65 plus will help support those who rely on their savings income in retirement."
'Attractive' rates
Danny Cox, head of financial planning at Hargreaves Lansdown, told the BBC the new bonds were "great news for savers".
The interest rates were very attractive when compared with ISAs, he said, and the bonds were likely to be "taken up pretty quickly".
He added: "Banks and building societies won't be too happy about it."
However, Dot Gibson, general secretary of the National Pensioners Convention, said UK pensioners were still concerned about their finances.
"Benefits such as the winter fuel allowance, cold weather payments and the Christmas bonus have all been placed into the welfare cap, which could lead to cuts in the future," she said.