Paddy Power Oscar Pistorius ad broke rules, ASA finds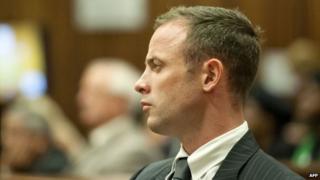 An ad campaign by bookmaker Paddy Power featuring Paralympic athlete Oscar Pistorius broke rules and brought advertising into disrepute, the UK's ad regulator has found.
The ad, which referred to Pistorius' murder trial, drew a record 5,525 complaints, the regulator said.
Paddy Power denied that the "money off if he walks" advert had trivialised domestic violence towards women.
The bookmaker will not be likely to apologise, a spokesman told the BBC.
Mr Pistorius is accused of the murder of his girlfriend Reeva Steenkamp.
The advert offered a refund on all losing bets if the South African Paralympian was found not guilty.
It was immediately pulled after becoming the most complained-about UK campaign ever.
'Bad taste'
In a ruling on Wednesday, the Advertising Standards Authority (ASA) found that the ad was likely to cause widespread offence.
Readers would interpret the advert as a reference to someone who had died and to Mr Pistorius as a double amputee, the ASA said.
"Given the content of the ad, and the prevailing circumstances at the time of its publication, we concluded that it brought advertising into disrepute," it added.
Paddy Power said that the ad had appeared only once, in the Sun on Sunday newspaper.
"It was one ad in one newspaper on one day. I don't think there's an apology coming - criticise us for bad taste, which is fine," a company spokesman told the BBC.
The bookmaker told the ASA that there was no reference to death, or to any dead person, in the ad. In addition, Paddy Power described the reference to Mr Pistorius' disability as "subtle".