Oracle shares fall on weak earnings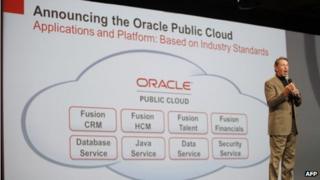 Shares of US computing firm Oracle fell more than 5% in after-hours trading on weaker than expected earnings.
The firm reported revenues of $9.3bn (£5.2bn) for the third quarter - a 4% jump from a year ago. But that fell short of analysts' forecast of $9.36bn.
Its net profit for the period - $2.56bn - also fell short of expectations.
Oracle has been hurt in recent times by growing competition from firms offering remote or "cloud" services over the internet at lower prices.
Oracle's traditional business model involved licensing and servicing software installed locally on individual computers.
But companies have been leaning towards the flexibility offered by cloud services that allow data to be stored and accessed centrally via any networked machine.
Oracle has also started offering the service and said that revenues at the division had been growing robustly.
"Sales of Oracle's Cloud Applications accelerated sharply in the quarter with bookings growth of over 60%," said Oracle President Mark Hurd, in a statement.
"Our quarterly Cloud Application revenue is now approaching $300m."