South Africa signs 1,000-train deal to boost network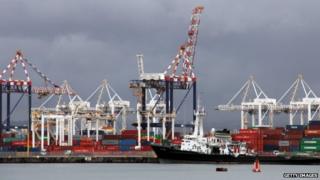 South Africa's ageing freight rail network is to get 1,000 new trains in a 50bn-rand (£2.8bn; $4.7bn) investment.
The trains will be run by Transnet, South Africa's state-owned freight transport company.
Transnet chief executive Brian Molefe said the deal would "transform the South African rail industry by growing existing small businesses and creating new ones".
"We are going to create and preserve approximately 30,000 jobs," he said.
Nearly all the trains will be built in South Africa in Pretoria and Durban.
After decades of underinvestment, South Africa is scrambling to modernise its rail network and shift transport from road to rail.
The trains will be mainly used for freight transport, servicing the country's ports, which take some 96% of its exports.
It is the country's single biggest corporate infrastructure investment.
In all, 599 electric locomotives will be made by CSR Zhuzhou Electric and Bombardier Transportation.
General Electric and CNR Rolling Stock will build and supply 465 diesel locomotives.
Port investment
Transnet owns and manages about 12,400 miles of rail lines. The project is part of its 300bn-rand Market Demand Strategy to improve the country's rail, port and pipeline infrastructure over seven years.
Mr Molefe said: "One-third of the 300bn, which is about $10bn, will go towards our ports.
"We have already started buying new equipment for the ports. We have bought cranes for Durban, for Cape Town, for the port of Ngqura and Port Elizabeth.
"We are deepening the ports and we have a programme to improve not just the rail, but the ports and the pipelines as well."