Fragility and Turkey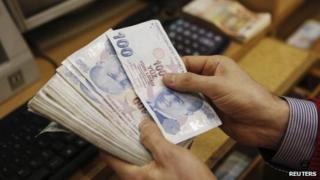 As the Fed prepares to meet for the first time under new chair Janet Yellen, how will emerging economies fare? Developing countries such as Turkey have held emergency meetings and raised key interest rates to retain and attract money as the US central bank continues to cut back its cash injections.
UK Chancellor George Osborne says that it's wrong for emerging economies to lay the blame for their woes on Western monetary policy. However, in an exclusive interview Turkey's Finance Minister Mehmet Simsek told me: "Speaking up and saying that emerging markets are themselves to blame…. such comments [are] of course not really helpful, that's all I can say; it wasn't so when developed markets were in trouble."
Backing up for a moment, what a difference a year makes. Just last spring, Turkey was upgraded to investment grade and saw its borrowing costs plummet. Turkey's middle class was growing rapidly as the government had finally tamed the high inflation of the prior decades.
A decade ago, inflation was 120%. With one of the largest and youngest populations in Europe, the country was attractive to investors who eyed its medium-term growth potential as they sought places to put their money after the US sub-prime and euro crises raged on.
Last May, Turkey paid off its last loan owed to the International Monetary Fund (IMF) and was to become a creditor to the IMF for the first time after 52 years of being a debtor. A week later, US Federal Reserve chairman Ben Bernanke mentioned tapering, or cutting back on cash injections. Since then, Turkey's stock market has lost a quarter of its value and its currency, the lira, has been at record lows against the US dollar and the euro.
Turkey has been included in a group of counties dubbed the Fragile Five, alongside India, Indonesia, South Africa and Brazil. The country has some traits which make it particularly vulnerable to "sudden stops" in short-term capital, often termed "hot money".
In some ways, Turkey is the most fragile of this set of emerging economies that could be derailed by the end of the era of cheap money as it has the largest current account deficit and the highest proportion of debt owed to foreigners.
First, it has a significant current account deficit, the widest definition of trade that includes investment flows. As a share of GDP, it is around 7%, although it remains below the record 10% reached in 2011. Anything over 6% is considered to be too large.
Turkey also owes a sizeable amount to overseas creditors. Even though its government debt is relatively low at around 35% of GDP, private debt has grown rapidly, particularly that owed to foreigners. External debt is equivalent to half of GDP. Crossing the 50% level is considered to be risky.
Thirdly, the duration of the debt and thus the pressure on repayment also matters. Since 2008, short-term external debt has nearly doubled to reach around 21% of GDP.
As the lira weakens, it makes it more expensive to service debt owed in foreign currencies, such as the dollar or euro. Ahead of the last Fed meeting, the Turkish central bank raised its key interest rate to 10%, more than doubling it in order to try to keep investment in the country and support its currency. With another Fed meeting looming, the US central bank is likely to continue to withdraw cash from the US economy, which could lead to more volatility in emerging markets, particularly the fragile ones.
The problems occur despite Turkey having good growth potential over the medium-term, a position which Turkey shares with the other emerging economies. And as Finance Minister Mehmet Simsek told me, Turkey has a better budgetary position and a fiscal and monetary framework that has led to inflation dropping substantially in the past decade. Though still high, it's slowed to 7%.
But, the trouble with relying on short-term cash is that if it leaves, then a country can experience a liquidity crisis even if it has good longer growth prospects and can pay its way over the longer term. So, growth potential doesn't matter as much if a country owes a lot of foreign debt; instead, retaining the confidence of investors matters. And that confidence depends on a number of factors, including what the Fed does and how ready a country is for the end of the era of cheap money.
Turkey's last crisis was in the aftermath of the Asian financial crisis of 1997-98 when investors pulled their money from emerging economies not just in Asia but also in Russia, Latin America, and Turkey. A similar loss of confidence could leave private firms unable to service their debts, particularly that which is owed to foreign creditors. It's never easy to say, but that could mean bankruptcies, default and possibly another financial crisis.
This time, there is also political turmoil as the government faces corruption allegations. The worry for Turkey is that if the economic fundamentals don't cause investors to lose confidence, then could the political crisis tip the balance? Either way, a crisis in one of the largest emerging economies could be the trigger that sets off another leg of weakness in the global economy or worse.