Pub chain Wetherspoon posts pre-tax profits of £36m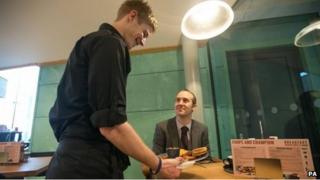 Pub chain JD Wetherspoon, one of the UK's biggest pub chains, has seen its pre-tax profits rise 3.2% in the first half of its financial year to £36m.
The results were an improvement on last year when the pub chain saw profits fall 2.7% to £34.8m, blamed on higher taxes and increased labour costs.
The group said it had "reasonable" confidence in its prospects for the full year.
It had a strong start to the second half with sales up 6.7% over six weeks.
Sales in the six months to 26 January rose 9.1% to £683.2m, with sales at pubs open over a year up 5.2% over the same period, it said.
Wetherspoons, which has grown to over 900 pubs, will open its first pubs in the Republic of Ireland in 2014.
It is aiming to open another 40 to 50 new pubs in the UK this year.
'Biggest danger'
It plans to continue opening new pubs at similar rate for the next decade.
Wetherspoon's chairman Tim Martin said the pub chain still faced threats chiefly from the sale of cheap alcohol in supermarkets:
He said:"The biggest danger to the pub industry is the continuing tax disparity between supermarkets and pubs.
"Supermarkets pay no VAT in respect of their food sales, whereas pubs pay 20%, enabling supermarkets to subsidise their alcoholic drinks prices," Mr Martin added.