China's CITIC shares suspended after 7% decline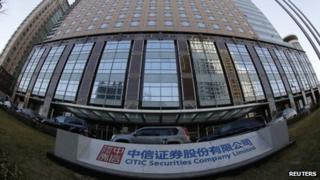 Shares of China's CITIC Bank were suspended on the Hong Kong stock exchange after a near 7% slide.
The decline follows reports that Chinese authorities are clamping down on mobile phone payment systems.
Shares of Tencent, China's biggest internet firm, and e-commerce giant Alibaba also fell by around 6%.
CITIC had announced earlier this week that it planned to partner with the two firms to issue virtual credit cards-based QR code payments.
QR codes are bar-code like images which can be used to transmit web addresses, payment details and other information.
These payments are usually made by scanning a bar code with a mobile device.
According to local media, China's central bank has pushed for a halt in QR code payments due to concerns over the security of their verification procedures.
The reports come days after a Chinese official said the country is working on launching a pilot programme in creating privately-owned banks, and had mentioned that Alibaba and Tencent would be participating in the initiative.