Government criticised over outsourcing failures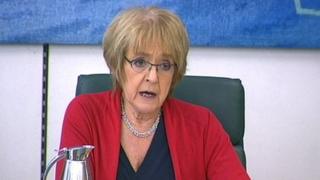 The government's ability to negotiate and manage outsourcing contracts has been strongly criticised by the Public Accounts Committee (PAC).
PAC chairwoman Margaret Hodge said Whitehall must "urgently get its house in order", citing overcharging by Serco and G4S for security contracts.
She criticised the lack of openness around such arrangements.
But Paymaster General Francis Maude says there has already been quite a lot of progress in improving the process.
Speaking on the Today Programme Mr Maude, who is responsible for managing government contracts said: "We are turning the supertanker around but a lot of this is about change of attitude and culture and mindset, and that does take time. "
He also said it was the government's intention to get to a point where most contracts are published.
Three measures
Ms Hodge is calling for three basic measures to promote transparency.
extension of Freedom of Information to contracts with private providers
access rights for the National Audit Office
a requirement for contractors to open their books to officials
G4S, Atos, Serco and Capita were prepared to accept the measures, said Ms Hodge.
"It therefore appears that the main barriers to greater transparency lie within government itself," she added.
On Wednesday G4S agreed to repay £108.9m plus tax to the UK government after overcharging on contracts to tag offenders.
G4S and Serco, which has also repaid money, face fraud investigations over the allegations they overcharged for tagging offenders, some of whom were found to be dead, back in prison or overseas.
'Improving capabilities'
The CBI, which represents big business, supported the call for reform.
"The private sector plays an increasingly important role in running public services, as this report notes. The public has a right to know how its money is being spent and the industry has pledged to meet a higher bar on transparency," said John Cridland, CBI director-general.
However, the government said that it was improving Whitehall's commercial expertise.
A Cabinet Office spokesperson said: "As the PAC acknowledge, this government is reforming Whitehall and improving the Civil Service's commercial capabilities reforms saved taxpayers £3.8bn last year. But there's more to do as part of our long-term economic plan and to build on our world-leading transparency record.
"When we discovered issues with contracts let before the last general election, we took action, securing £176m of compensation."
'Too high risk'
Small and medium size companies complain that the government gives too much business to the big four private sector contractors.
Speaking on the Today Programme, Sara Murray, founder of Buddi, a company which develops tracking technology, said: "The words that we heard the most often were 'high risk'. 'It's just too high risk to contract with you'.
"Civil servants are just not used to dealing with small companies," she said.