Bank of England: Bankers may have to return bonuses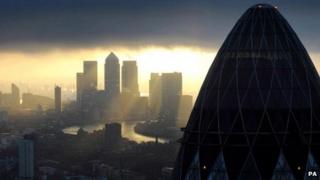 Bankers may have to return their bonuses up to six years after receiving them, the Bank of England has said.
Repayment could be ordered in the event of bankers' "misbehaviour", big losses at their bank or bad risk management, said the Bank.
The banking system came under scrutiny after many banks were bailed out by billions of pounds of taxpayers' money following the credit crunch.
Previously, the Bank had suggested repayments of promised bonuses.
'No longer safe'
The bonuses would have been effectively cancelled, rather than clawed back from the bankers, who may have already spent the money.
A spokesperson for the Bank of England said the new reforms were "much more stringent".
BBC business editor Robert Peston said: "This reform will worry bankers, because it means bonuses they have already pocketed are no longer safe for them and might have to be paid back."
Public trust
Deborah Hargreaves, director at the High Pay Centre, said: "I think claw back is a good thing and extending it to six years does give a chance for those bets to go wrong - some of them can take a while to come to light."
Ms Hargreaves added: "What the public really sees, and I agree, is it is quite hard to justify getting a bonus if the bank is making a loss."
She said the public would find it easier to understand a system where bankers were not awarded bonuses if their bank failed to make a profit.
'Practical difficulties'
The Royal Bank of Scotland (RBS) was the latest bank to award its bankers bonuses despite reporting a loss.
The bank's pre-tax loss for 2013 was £8.2bn, compared with £5.2bn in 2012, but it set aside £576m for staff bonuses in 2013, a drop of 15% on 2012.
Of that sum, £237m went to investment bankers.
It also recently awarded 11 of its directors a share package worth up to £18.25m.
Simon Hills, executive director at the British Bankers' Association (BBA), said he supported the clawback reform, since if a bonus was paid based on "conduct that has later been shown to be substandard, it is only proper that it should be returned".
But he added: "However, we should not underestimate the practical difficulties of recouping money that has already been paid.
"The BBA will work with our members and the Prudential Regulation Authority in seeking to overcome those challenges."