February US retail sales thaw out after winter chill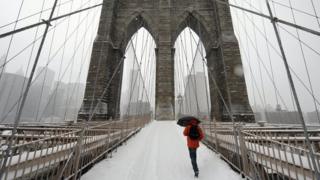 US retail sales rose for the first time in two months in February, official figures have shown.
The figures suggest the world's largest economy is gaining in strength after suffering the third-coldest winter on record.
Retailers reported that sales rose 0.3% in the month, the US Commerce Department said, after falling by a revised 0.6% in January.
The figure beat economists' forecasts for a more modest rise of 0.2%.
Last month's rebound almost brought retail spending back to its December levels. Over the past 12 months, retail sales have risen 1.5%.
The unusually cold winter, combined with heavier than usual snowfall, caused widespread disruption at the end of last year and continued to do so into the first half of February.
The cold weather continued to help sales of building materials and garden equipment, which increased 0.3% as consumers bought snow shovels, on top of a 1.4% rise in the sector in January.
Rising wages
Economists expect sales to continue to pick up as the weather and household finances both continue to show signs of improvement in the spring.
Rising property values and share market prices, as well as some uptick in wages, and falling inflation have left household with more disposable income for the first time in five years.
Sales of cars and spare parts rose 0.3%, helping to offset a 0.2% fall in sales at electronics and appliance stores.
Furniture stores reported sales up by 0.4%, while clothing store sales climbed 0.4% after falling 1.8% the previous month.
There were also gains in receipts at sporting goods shops and restaurants, but sales at food and drink stores fell, as did online sales.