Singapore to regulate virtual currency exchanges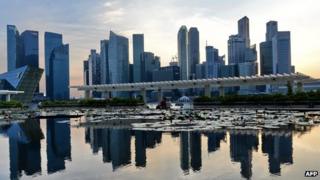 Singapore plans to regulate virtual currency intermediaries, to combat potential risks from money-laundering or terrorism-related financing.
The Monetary Authority of Singapore (MAS) said the intermediaries, such as virtual currency exchanges, would need to verify their customers' identities.
They will also have to report any suspicious transactions.
The move makes Singapore the second country after the US to impose such measures.
The city-state says the regulations for transacting digital currencies will be similar to those currently imposed on money changers and remittance businesses that undertake cash transactions.
Specific regulation
MAS did not elaborate on when the regulations would be implemented.
Singapore, in common with many other countries, does not have specific regulations for virtual currencies, as they are not considered legal tender.
MAS said its regulation of virtual currency intermediaries - which include virtual currency exchanges and vending machines - was tailored specifically to the money-laundering and terrorism financing risks they posed.
It added that its regulation did not extend to the safety and soundness of those virtual currency intermediaries.
The regulator's deputy managing director, Ong Tong Chee, said: "Consumers and businesses should take note of the broader risks that dealing in virtual currencies entails and should exercise the necessary caution."
Earlier this week, New York's financial regulator called on companies to submit proposals to set up "regulated" exchanges for digital currencies such as Bitcoin.
The initiative came not long after a top Bitcoin exchange in Tokyo, Mt Gox, filed for bankruptcy protection last month.
Bitcoins have been gaining in popularity recently, but they are not governed by any financial regulator.