Meeting the man trying to raise $100m for sailing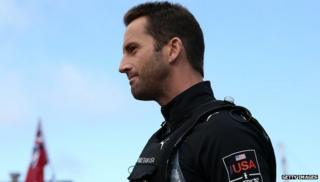 I spent a day with the most successful sailor in Olympic history, Sir Ben Ainslie, when he was competing in an Extreme Sailing event which consists of eight races around the world in marinas like Singapore's.
What was striking was how many commercial activities he did that day before the race, including cooperate with an interview and filming, all on the third day of the four-day competition.
This was not the Olympics of course and it is a relatively new event designed partly to allow more spectators to watch, thus making it more commercial than a typical sailing event where the boats can be far out at sea.
I first met Ainslie at the London Olympics when he was ultimately chosen to carry the Union Jack at the Closing Ceremony. Ainslie won his fourth gold medal in London and had won five medals (one silver) in five consecutive Olympic Games, an unmatched tally.
He was en route to compete in the America's Cup, which he helped turn around for the Oracle team when he was included as a tactician. He led them to winning eight races in a row and ended up beating New Zealand by one at 9-8 when the Oracle team had been trailing 1-8.
Big plans
He is now on a mission to raise $100m to lead a British team to compete in America's Cup - it's an actual silver cup named after the first winner, a yacht called America.
He wants to bring back that trophy which was originally held in the Isle of Wright when the Americans won the first race in 1851.
And that eye-watering sum may not be enough as the titleholder is financed by billionaire Larry Ellison, the software giant's founder, who has ploughed $200-300m into the sailing team.
I recently looked into the football business so know that spending billions to make millions is not unheard of for the likes of Chelsea and Manchester City. But, what was striking about Ainslie was how he was the sportsman and also the one who needed to find the financing for the team. In that sense, he reminded me more fashion entrepreneurs who are also the face of their own brands like Tom Ford. In other words, he reminded me more of a chief executive than a sportsman. Of course, he's both as he now heads his own team, Ben Ainslie Racing (BAR), which has several sponsors.
Courteous chief exec
On time for the interview and courteous, he offers me a coffee and makes one for himself. He is thoughtful and reflective on raising what seems to many people to be an extraordinary sum. He says that he's seeking a combination of private investors and commercial sponsorship and he's about 70% there in terms of the former. The money will go on not just the technologically advanced boat, but the costly 80-plus team that goes with it.
Sailing, like other professional sports, is an expensive business and it's a big industry. The consultancy PricewaterhouseCoopers estimates that the professional sport industry will grow by nearly 4% to reach $145.3 billion by 2015. Gate receipts or ticket sales are the largest source of revenue, which points to the challenge of sailing since sports like football, baseball, and basketball attract larger crowds.
Coming back to that $100m, to most of us it's an unfathomable sum to try and raise. But, in the context of global sport, it's a drop in the ocean. Still, it's up to Ainslie to raise that. So, after our interview, he meets with the clients of his main sponsor who take the opportunity for photographs and conversation. He then has a bit of time to get into race mode with his teammates. Then, it's back for a brief talk to the sponsor's guests given by one of his teammates and more photos with Ainslie. After which, it's time to change into racing gear and go out on the water. Crowds gather to see him walk to his boat and more autographs are signed and photos are taken.
Clients then get to clamber onboard what's called a rip boat which is a light dinghy that follows the racing action on the water. For the next three hours, Ainslie focuses on the racing.
From 9am to 6pm when the races end, about half of the nine hours was spent on the race and the other half on commercial sponsorship and media.
That type of schedule is more like what a CEO would do than the world's best-known sailor. But, the world of professional sport is a rather commercial one, where returns to the sponsor's investment matter, as Ainslie tells me. Some, of course, support a sport out of passion or patriotism, but others seek to get something back from what they put behind an athlete. For the athlete, it is another motivation to perform. Though for most like Ainslie, the thought of losing makes them cross. On a boat, he is competitive and says that winning is all that he thinks about.
Of course, these skills that Ainslie has gained are useful in another profession. When I asked him about life after sailing and if politics was on the cards, he said that was he was indeed interested. In that respect, he reminded me of another sportsman turned politician turned Olympics executive, Lord Sebastian Coe. Ainslie's 36 and may have the skills that's prepared him for at least one more career in the years ahead.
Watch Ben Ainslie on Talking Business with Linda Yueh. Details of when to watch at: bbc.co.uk/talkingbusiness.