Sun Pharma: Division of Indian drugmaker in US import ban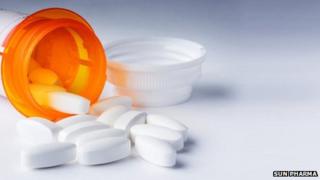 The US has banned imports from a division of India's Sun Pharmaceutical Industries, one of the country's biggest drugmakers.
US regulators said the unit was not "operating in conformity with good manufacturing practices".
It is the latest setback for India's pharmaceutical export sector, which has come under scrutiny in recent times.
Sun Pharma said it had "already initiated several corrective steps" to address the US regulators' concerns.
The firm's shares fell more than 6% on the news.
However, the company said the ban would have a "negligible" impact on its expected sales.
More scrutiny?
India's drugs export sector has seen robust growth in recent years. But there have been concerns over quality control at some factories.
The US Food and Drug Administration (FDA) has already banned imports of drugs made at some of the factories, including those operated by Ranbaxy and Wockhardt.
The FDA has put more than 30 Indian manufacturing units on its "import alert" list. This is, effectively, a ban as it warrants "detention of either particular products or all products manufactured by a firm" at the said facility.
Analysts said that firms in India needed to invest more towards quality control as they expand their operations to meet the growing demand.
"The FDA is becoming more stringent," said Rohit Bhat, an analyst with B&K Securities. "Companies will have to pull up their quality parameters."