E.On UK profits rise on 2013 cold snap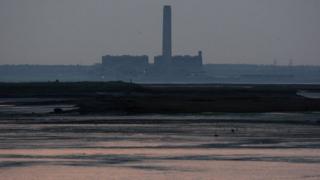 E.On UK, one of the "big six" energy firms, saw a 26% rise in profits in 2013 after a cold snap at the beginning of the year.
Profits increased to £296m in 2013 from £235m in 2012, after an effort to control costs, the company said.
Sales turnover increased from £7.6bn to £8bn in 2013 and investment rose from £64m to £66m.
In January 2013, E.On UK put its prices up by 8.7%, blaming higher wholesale prices.
It raised prices again in January this year, by an average of 3.7%.
E.on UK chief executive Tony Cocker said: "A prolonged period of cold weather at the beginning of 2013, coupled with a continued drive to keep down the costs we control, have contributed to an increase in the money we earned, along with a slight increase in our investment levels during the same period."
In 2013, the company's energy generation and upstream activities saw profits drop 34% to £1.85bn.
Mr Cocker said that E.On's gas power stations were "barely profitable" and said generation profits were affected by the closure of Kingsnorth power station at the end of 2012.