Sporting chance for disadvantaged youth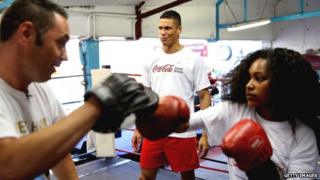 Getting involved in organised sport can be a daunting prospect, particularly for young people with no previous experience of joining a club or even basic knowledge of how to hire a playing pitch or court.
As well as the costs involved, there are also sometimes potential social and cultural barriers that can inadvertently deter youngsters - particularly those from less affluent backgrounds - from participation.
That is where sports charity Street Games looks to fill a gap, not only does it take sport - as it says - to the street, it offers other activities such as dance, as well as lifestyle and dietary advice, and social activities, alongside the sport.
The project also encourages youngsters to become volunteer coaches.
It was established by two former Sport England executives with the aim of promoting sporting activities among 14 to 25-year-olds in disadvantaged areas of the UK, initially in England and Wales, and now also in Scotland.
Sport on the doorstep
"Our 'doorstep' approach to sport means that we try to offer sport at the right time, at the right place, at the right cost, and in the right style," John Feaver, the organisation's head of partnerships, tells the BBC.
"Public schools and grammar schools have good, fantastic, sports facilities, but if you are in the bottom 25% economically sport is quite difficult to organise,
"We ask young people when is a good time for them to do sport. We ask them how they want it structured - not everyone likes rigid solo games or team games.
"And we take it to their doorsteps - to locations that are convenient and comfortable for them."
Street Games says that disadvantaged young people participate in sport far less than more affluent youngsters, but says sport can play a major role in tackling issues such as high rates of crime, low aspirations, qualifications and expectations, and high rates of ill health.
Events are not held in schools but in public parks, and in locations where parks are not available than in other locations, including car parks. And activities can be adapted from existing sports, or newly created, and include activities such as cardio tennis, instant ping pong, rush hockey and street dance.
One of the goals is to encourage more teenage girls and young women to get involved with sport, with an Our Us Girls strand making doorstep sport attractive to them.
Extra benefits
The organisation has some big name sportspeople backing it - including former world boxing champion Amir Khan, Olympic taekwondo medallist Sarah Stevenson, Olympic boxers Anthony Ogogo and Nicola Adams, and former England footballer - and now Under-21 team manager - Gareth Southgate.
"Street Games can help to engage young people in sport," says Mr Feaver.
"There are a number of other benefits apart from purely sporting - physical activity can help with mental health, can help the young make friends, and also addresses the growing obesity agenda."
More than 100,000 young people so far this year have taken part in activities across England, Wales and Scotland.
Mr Feaver, a former British tennis player in the 1970s and '80s with wide post-playing business experience, is responsible for pulling all different relevant sporting and commercial stakeholders together, including sponsors.
Street Games' major partner, perhaps not surprisingly given the background and aims of the charity, is Sport England, whose remit is to increase the numbers regularly playing sport.
In January 2014, Sport England announced a £6m award, following a £3.38m award in 2013.
The latest money was in "recognition of the good progress the organisation has made over the last year, reaching its target of setting up 307 clubs and getting more young people from disadvantaged communities into sport".
With regard to another partner, Mr Feaver admits that the involvement of Coca-Cola caused much debate before deciding that the company's organisational expertise, commitment to sport, and the fact that it was helping to encourage participation, outweighed worries about the sugar content of many of its products.
Major projects this year are expanding activities in Scotland around the Commonwealth Games. The charity took 1,700 young people to the Olympics in 2012. This year they are taking 1,200 youngsters to the games in Glasgow, and combining it with an outward bound course.
And they will be taking youngsters to other major sporting events such as the 2015 Rugby World Cup.
"It all helps young people to learn more about different parts of the world, different countries and cultures," he says.
Games legacy
Mr Feaver says he is slightly disappointed that the London 2012 Olympic Games - "which was meant to be an Olympics for youth" - has not precipitated a boom in sporting participation that was initially promised.
"I am not totally comfortable about how things have gone, but we are doing what we can about it," he says.
"We are opening hundreds of doorstep sports clubs across the country this year. So that is certainly all about an Olympic legacy."
Another legacy of the Olympics was that the number of young people becoming Street Games volunteers - supporting and running local sport sessions and tournaments - grew from 4,000 before the London Games to more than double that now.
"Volunteering for Street Games is a way back into the system for young people, leading to improved confidence, recognised qualifications and jobs," says Mr Feaver.