Labour: Thousands to miss out on energy improvements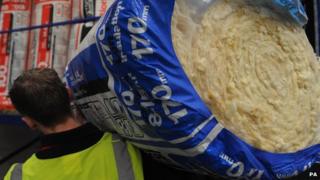 At least 54,000 homes in the UK will not now be insulated as a result of changes to energy bills, the Labour Party has claimed.
It follows the government's decision to remove some of the green levies from bills in December 2013.
One of the levies - the energy company obligation (ECO) - pays for efficiency measures in vulnerable households.
The government said consumers would still benefit from ECO, which has now been extended over a longer period.
Labour's figures were compiled from 146 local authorities in Britain which replied to a freedom of information request.
The data shows that 49 energy improvement schemes have been scrapped or put on hold, as a result of the changes.
"Thousands of households will be left in the cold because of the government's dirty deal with the energy companies," said Caroline Flint, Labour's shadow energy secretary.
"The best way to cut people's energy bills is to invest in insulation and save the energy that escapes through our windows, walls and rooftops," she said.
Bill reductions
According to the survey, the North of England will be the worst affected by the decision not to proceed with insulation or efficiency measures.
East Riding of Yorkshire said a scheme to improve 9,000 homes was now on hold.
In Leeds, 4,000 homes will not be improved. Gateshead and Northumberland will also be badly hit.
Kent has put a scheme to improve 5,000 homes on hold.
But the government said it had made an extra £540m available for energy efficiency schemes.
In December, it rescheduled the timetable for ECO, which had been due to end in 2015 but has now been extended to 2017.
"Those changes will ensure that energy efficiency measures are more effectively targeted at homes which will benefit most," a spokesperson for the Department of Energy and Climate Change told the BBC.
As a result of the changes announced in December, energy companies were able to announce a reduction of about £50 a year on bills.