Indian airline SpiceJet places $4.4bn Boeing jet order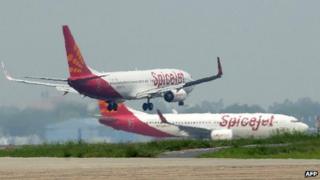 India's SpiceJet has ordered 42 of Boeing's 737 MAX aircraft in a deal worth about $4.4bn (£2.7bn) at list prices.
Shares in SpiceJet - India's fourth-biggest airline by market share - rose 7% after the news was announced.
The budget airline is hopeful its fleet renewal will bring in new investors.
As with other domestic airlines in India, SpiceJet has been struggling to turn in a profit due to due to high fuel costs and a weak rupee.
"The induction of Boeing 737 MAX will further modernise our fleet, improve customer experience, and ensure that we operate the most efficient fleet well into the future," said S.L. Narayanan, chief financial officer for the Sun Group, which owns SpiceJet, in addition to several TV channels.
To date, SpiceJet has ordered about 90 aircraft from Boeing, of which 31 have already been delivered.
Boeing said in a statement that delivery of the 737 MAX to customers will start in 2017.
So far, the aircraft maker has clinched a total of 1,800 orders for the 737 MAX.