Budget 2014: What businesses and unions expect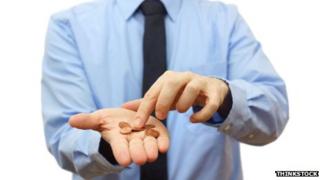 If you don't ask, the answer is always no - or so the expression goes.
It's a sentiment embraced at this time of year by organisations wanting Chancellor George Osborne to include their priorities in his Budget.
Trade bodies, unions and other groups have all made formal submissions to him.
Their documents will include issues already discussed with government officials, but also provide a chance to draw together requests in one place and obtain publicity for them.
Here's a look at what's in their wish lists this year.
Manufacturers
Britain's manufacturers couldn't be clearer about what they want. Their industry body, the EEF, says in its Budget submission "escalating" energy costs must be addressed.
It has some specific measures in mind, including a reduction in the carbon price floor, or the carbon tax.
Designed to encourage investment in green energy, the EEF says this accounts for 10% of the electricity bill of big industrial firms.
Aside from energy, manufacturers are keen for the government to invest further in skills training schemes.
Unions
In its submission the umbrella body for British unions, the Trades Union Congress (TUC), wants measures that will achieve a "stronger, better balanced recovery" together with "the protection of living standards in the future".
To do that, it has asked the chancellor to reverse planned reductions in taxes on company profits. Instead it would like to see higher tax breaks for investment.
It is also keen for the British Business Bank to focus on small businesses and infrastructure projects.
Big business
Boosting investment is also a priority for the CBI, the body representing British business.
Its Budget submission calls for the annual investment allowance, which currently stands at £250,000, to be extended beyond 2015.
This lets companies offset spending against tax on items such as office equipment, furniture and machines or tools.
The CBI also wants the air passenger duty (APD) to be frozen. This is charged on flights departing from the UK and ranges from £12 to almost £400, depending on the distance and the type of ticket.
APD is particularly distorting the market for long-haul flights, the organisation claims.
Banking
The British Bankers Association (BBA) is calling for measures to encourage saving. It wants a "shake-up" of the Isa scheme (for individual savings accounts), which allows a fixed amount of tax-free saving every year.
It is suggesting a new workplace savings scheme under which employees would pay part of their salary into an Isa.
The BBA also wants the government to broaden its support for export financing.
In particular it is pushing a "supply-chain finance scheme", offering backing for the importation of components which would ultimately be exported in finished products.
Retailers
The reform of business rates is the top priority for the British Retail Consortium (BRC).
These are "no longer fit for purpose" and must be modernised, the organisation says.
It lays out four options, including completely scrapping business rates in favour of a tax that is based on the energy efficiency of a building.
Housing
The UK needs far higher levels of home-building for up to 25 years to tackle the shortage of housing, according to the Home Builders Federation (HBF).
In its Budget submission, it asks Mr Osborne for a return to the idea of "outline" planning permission, and for local authorities to be given more resources to speed up decisions.
The HBF also recommends that the first part of the government's Help to Buy scheme is tapered, rather than ending abruptly in March 2016.