Co-op Group accepts resignation of chief executive Sutherland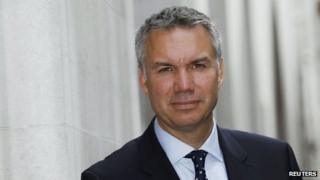 The Co-operative Group said it has accepted Euan Sutherland's resignation as chief executive, and that chief financial officer Richard Pennycook will act as interim boss.
His departure comes after he said efforts to overhaul the business became "impossible" because of the Co-op's failure to change its governance.
Mr Sutherland said in a statement that he resigned with "with great sadness".
He said he will "not accept" retention and bonus payments previously agreed.
Co-op chairwoman Ursula Lidbetter said she accepted Mr Sutherland's resignation with "deep regret".
She added: "Euan's resignation must now act as a catalyst for the real and necessary change which the group must go through."
In his resignation letter Mr Sutherland said the governance structure of Co-op limited the reforms he wanted to implement.
"Until the group adopts professional and commercial governance it will be impossible to implement what my team and I believe are the necessary changes and reforms to renew the Group and give it a relevant and sustainable future."
'Disaffected'
His resignation comes after reports suggested the group was recommending he should get a remuneration package worth £3.66m for 2013.
After the revelations over executive salaries, Mr Sutherland said on the Co-op's Facebook page that there seemed to be "an individual, or individuals, determined to undermine me personally". But he said he was "determined" to see through "the vital transformation of our business".
He added: "We appear to have disaffected people who are determined to make life difficult and embarrassing for the Co-operative at a time when what we need most are professionalism and loyalty to the business."
Mr Sutherland, who joined last May, said last month that 2013 had been "perhaps the worst year" in the Co-op's long history and it had "lost its way".
It followed a year of financial problems in its banking division and the scandal involving the division's former chairman Paul Flowers, who was arrested for alleged drug offences.
'Misfortunes'
BBC business editor Robert Peston said Mr Sutherland was thought to be "demoralised and fed-up" and that his initial offer of resignation letter was broadly a "back-me-or-sack-me move".
Lord Levene, who headed a rival bid for Lloyds TSB branches in competition with the Co-op Bank, told the BBC that Mr Sutherland's resignation offer seemed to be part of a "never ending" series of misfortunes for the group.
"They got in a good professional to run the place, and it seems he looked, and decided it wasn't for him," Lord Levene said.
Co-op Bank was rescued last year under a deal with its bondholders after it emerged that it faced a £1.5bn black hole.
That black hole caused the bank's proposed takeover of more than 600 Lloyds TSB branches to fall through.
Later that year the company was hit by a fresh scandal when Mr Flowers was arrested in connection with a drug supply investigation. He remains on police bail.
The Co-op last month launched a nationwide poll - open until 24 March - to ask people for their views on its future.
The results will be published at the group's annual meeting in May.
'Clash of cultures'
John Thanassoulis, professor of financial economics at Warwick Business School, told the BBC that Mr Sutherland's resignation underlined a "clash of cultures" about the way forward for Co-op Group.
"This is a comment on how viable the Co-operative Group's business model is - can it survive or does it not work?," he said.
Mr Sutherland was seeking to evolve the business in a way that would have resulted in job losses, the sale of co-operative farms, and the possible sale of the co-operative pharmacy business, Prof Thanassoulis said.
Members may have seen this as being against the ethical business model of the group, and resisted such changes, he said.
The acceptance of the resignation means the board may have to hire a new chief executive "who's going to have their hands tied in terms of cost-cutting measures", Prof Thanassoulis added.
"I'm wondering whether the end game will actually be selling off the bank."