Banks may be 'hindering' small businesses, says OFT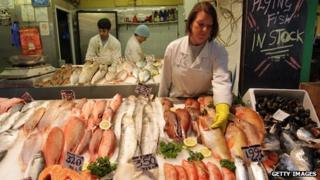 Small businesses may still be getting a raw deal from their banks, according to the Office of Fair Trading (OFT).
Publishing an update on its current inquiry into business banking, the OFT said it was concerned that competition in the sector may not be working.
It said that banks may be hindering small and medium-sized businesses (SMEs) from getting loans from alternative providers.
The banks involved have agreed measures to improve their performance.
However, the OFT has warned that further action could follow unless the banks change their behaviour.
"SMEs are a vital driver of growth in the UK," said Vivienne Dews, the chief executive of the OFT.
"They need access to banking services and loans which meet their needs," she added.
'Bundling'
One concern raised by the OFT was that banks are making it hard for their business customers to borrow from other lenders.
Businesses looking for a loan from peer-to-peer lenders, for example, face long delays waiting for their bank to share information, or process the paperwork.
The OFT also says some banks are still failing to conform to a previous investigation by the Competition Commission 12 years ago.
That inquiry found that banks sometimes required customers to open an account as a condition of receiving a loan.
The OFT says there is evidence that this practice - known as "bundling"- is still occurring.
Business Secretary Vince Cable said that small businesses still face problems with banking.
"SMEs feel they have too few lending options other than the big four banks, which is not healthy for the economy," he said.
"The picture of concentrated ownership and excessive profit margins from SME banking described in the 2000 Cruickshank Report remains largely unchanged," he added.
Referrals
The banking industry said it was working to make it easier for small businesses to borrow from other lenders.
Part of this involves working out which lender gets priority should a borrower default on a loan.
The British Bankers Association said it also runs a referral system in cases where a bank refuses to lend.
It said that such customers now get referred to community finance initiatives, or are advised to apply for start-up loans.
"We want businesses to have as many options as possible when seeking to get finance, which is why individual banks and the BBA have set up programmes to refer customers to other institutions," said Anthony Browne, the BBA chief executive.
The Competition and Markets Authority, which takes over from the OFT and the Competition Commission in April, will decide in the summer whether to refer any particular banks for a full competition inquiry.