China's Tencent buys 15% stake in e-commerce firm JD.com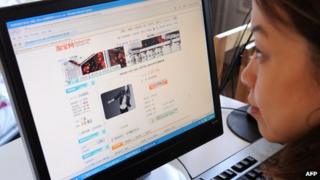 China's Tencent Holdings has bought a 15% stake in e-commerce site JD.com as it looks to grab a larger share of the country's online shopping market.
Asia's biggest internet company will pay about $215m (£128m) for the stake, which could increase to 20% after JD.com's planned listing in the US.
JD.com is expected to raise $1.5bn from an initial public offering in the US.
The purchase also marks heightened efforts by Tencent to take on rival e-commerce giant Alibaba.
Under the deal, JD.com will take full control of Tencent's e-commerce business, which includes subsidiaries such as QQ Wanggou and Paipai.
Tencent is also looking to integrate its popular WeChat mobile messaging service with JD.com since the chat application allows online payments.
"We hope to enhance our ability to provide high quality and enjoyable shopping experience to a broader and growing user base while strengthening our direct sales and marketplace businesses on mobile and internet," JD.com chairman Richard Liu said in a statement.
Tencent shares fell by more than 2% in Hong Kong following the news.
Growing market
China's e-commerce market has expanded sharply as rising internet usage and middle-class incomes on the mainland spur more spending on products and services online.
As a result, online retail companies such as JD.com have grown rapidly in recent years by selling everything from electronics to fashion.
The Chinese company - which is backed by Russian billionaire Yuri Milner's DST Global - has forecast that its sales last year will top $16bn when final figures are announced.
Its purchase by Tencent comes as the internet giant tries to diversify, and close the gap with rival Alibaba.
Alibaba's eBay-like Taobao and Tmall marketplace account for at least half of China's online retail sales.
However, analysts say Tencent has been gaining ground through recent acquisitions aimed at beefing up its e-commerce business.
In January, shares in Tencent Holdings rose to a record high after it paid $193m for a stake in logistics and warehouse company China South City.
Tencent currently gets most of its revenue from computer and mobile games.