Energy bills to come with compulsory QR barcodes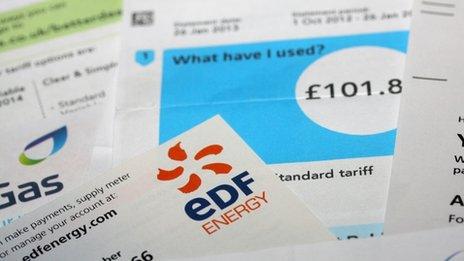 Energy bills are to come with compulsory Quick Response (QR) codes to help people switch supplier more easily, the government says.
The barcodes, which can be scanned by smartphones and tablets, will let customers upload tariff and consumption data directly from their bills.
They could then feed this information into price comparison websites to make sure they are on the best rate.
Energy UK said suppliers were already helping customers find better deals.
The government hopes its plans will encourage the development of smartphone apps that let consumers swipe their phone over an energy bill to read data such as tariff and consumption.
The data could then be automatically uploaded to price comparison sites, to let consumers look at deals from other energy suppliers.
"We're determined to make energy markets work better for consumers - and despite all the evidence showing that QR codes on bills would make a real difference to people, energy companies still haven't done anything about it," said energy minister Ed Davey.
Energy companies have not voluntarily included QR codes on bills, so the government wants to modify energy licences to make it a condition that companies use the codes, it said.
The energy sector said that it was already working hard to streamline tariffs and encourage customer choice.
Industry body Energy UK said its latest figures indicated that a quarter of a million customers switched energy supplier in February, representing around one-in-a-hundred customers.
"New rules, coming in by April, will help customers find their best deal by providing more information to help compare deals," it added.
By 31 March, there will be a new tariff comparison rate in pence per kilowatt hour, to enable people to compare prices quickly, Energy UK said.
People will get a personal projection on bills which will give an estimate of future charges, and there will be tariff information labels, so people can compare key facts about tariffs.