Co-op Group to boost executive pay and bonuses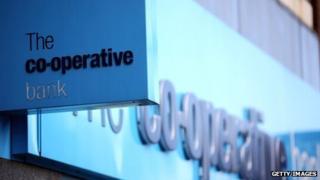 The Co-operative Group is set to give pay rises and bonuses to its senior staff despite the near collapse of its banking division, it has emerged.
The Co-op, which is also expected to report the worst losses in its history this month, said this would reflect the greater experience of its new top team.
It said executive pay was in line with that of comparable firms.
The Observer reported the group was recommending its new chief executive should get a package worth £3.66m.
Last month, chief executive Euan Sutherland, who joined the mutual last May, said 2013 had been "perhaps the worst year" in the Co-op's 150-year history and that it had "lost its way".
It followed a year of financial problems in its banking division and the scandal involving the division's former chairman Paul Flowers, who was arrested for alleged drugs offences.
'Black hole'
On Sunday, the Observer reported that it had seen internal documents prepared for the group's remuneration and appointments committee that suggested Mr Sutherland would receive £3.66m for his first year in the job.
The documents suggested the packages for Mr Sutherland and his fellow directors were necessary because "the [Co-op's] executive agenda is possibly the most complex one facing a large business in the country today," the newspaper said.
It said Mr Sutherland would be paid a base salary of £1.5m this year, plus a £1.5m retention payment. With pension contributions and other extras, Mr Sutherland would receive £3.66m this year, it said.
Co-op Bank was rescued last year under a deal with its bondholders after it emerged that it faced a £1.5bn black hole.
Later that year the company was hit by a fresh scandal when Mr Flowers was arrested in connection with a drugs supply investigation. He remains on police bail.
'Complex journey'
The Co-op Group is cutting staff and selling off parts of its business in an effort to save itself but is still expected to post annual losses in excess of £2bn at the end of the month, said BBC business correspondent Joe Lynam.
Ursula Lidbetter, chairwoman of the Co-operative Group, said the company had faced the biggest crisis in its history last year.
"We saved the bank, without recourse to the taxpayer and we are now embarking on the long and complex journey to revitalise the wider group. That means reducing debt, improving performance and streamlining a business that had become grossly inefficient.
"It is against that backdrop that we recruited Euan Sutherland and a top team with the skills and experience needed at this crucial stage in our history, reflecting the necessity for change. The remuneration packages of our executives are in the middle of a range of comparable companies.
"This represents an increase on the pay of their predecessors to reflect the greater commercial, management and turnaround experience they are bringing to bear."
But analysts say the big payments are likely to upset some of the Co-op's eight million members, who own the mutual organisation.
"Prior to their ambitions to become one of the major players [Co-op] paid pretty average salaries because it attracted people who were committed to their principles," said Sarah Wilson, chief executive of Manifest, a corporate governance consultancy.
"I appreciate they need to get out of the soup but the membership is going to be shocked and feel let down."
The Co-op last month launched a nationwide poll - open until 24 March - to ask people for their views on its future. The results will be published at the group's annual meeting in May.
The Observer report comes after Barclays and Lloyds Banking Group last week said they would pay their chief executives nearly £1m each in shares this year on top of their salaries and bonuses.
The move sidesteps EU rules which limit bonuses to 100% of annual salaries, or 200% with shareholder approval.