The case for making Hebden Bridge the UK's second city
By Evan Davis
BBC News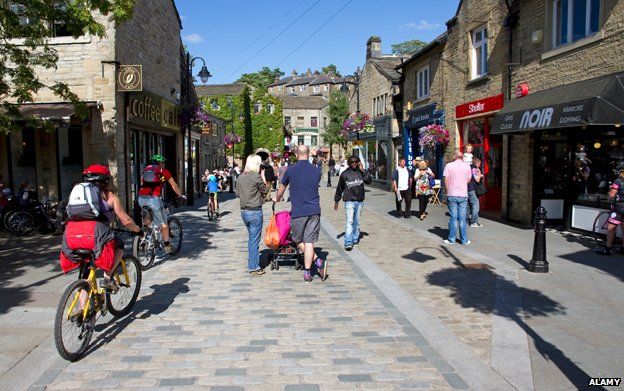 Birmingham and Manchester are usually mentioned when the subject of Britain's second city comes up. But is Hebden Bridge - population 4,200 - the rightful owner of the title?
Pretty much everyone in the world knows which is Britain's biggest city, but who can name the second?
It is a trick question, of course. Britain does not have a second city. Instead, it has a first city and a couple of thirds.
The 2011 census figures for Britain's broadly defined built-up areas, ranked by population, show that Greater London comes first with 9.8 million.
That makes it as big as the next six urban areas put together - Greater Manchester (2.5m), the West Midlands (2.4m), West Yorkshire (1.8m), Greater Glasgow and Clyde (1.2m), Liverpool (0.9m) and South Hampshire (0.9m).
Drawing on that list, Manchester and Birmingham offer the best candidates for second city status, but each is still only a quarter of the size of the capital and its sprawling urban area.
Now, if Britain was a typical country, you might expect it to have a second city of about five million, which is twice the size of Greater Manchester or the area around Birmingham.
I say this because it has been observed - very loosely it should be said - that the size distribution of cities within countries tends to follow a pattern in which the biggest city is about twice the size of the second city, three times the size of the third city, four times the size of the fourth and so on.
It is named Zipf's Law after the American linguist George Zipf, who noticed that the frequency distribution of words in many languages followed that pattern.
For the UK, the implication is stark.
As the eminent economic geographer from the London School of Economics, Henry Overman, puts it: "These kind of arguments imply that the problem with Britain's urban system is not that London is too big. Instead, if anything, it's that our cities are too small."
Our second tier cities in particular.
Having cities that are too small is potentially an economic problem because we know that big cities act as hubs which boost whole regions.
We know that cities are where a disproportionate amount of business gets done. And we know that, typically, bigger cities are more productive than smaller ones.
One World Bank report summarised it thus: "The large and growing academic literature suggests that doubling city size increases productivity by 3% to 8%."
In other words, if you could make Manchester the size of London (by doubling it and doubling it again) you would expect it to be about 6% to 16% richer.
Those who hate Britain's lopsided London-centricity might want to think about the idea of promoting the creation of a far bigger second city - one of several million people, which could serve as a counterweight to the mighty force that is the capital.
Hitherto, one might say that the lack of a proper second city has allowed London to divide and rule the rest of the nation. And the argument is even more powerful now that London has become such an obvious global centre.
It is as though Britain has a great world city but lacks a great national one.
So, if you believe this analysis, which second city offers the most hope for taking on the might of London?
Manchester or Birmingham are usually put forward, and the data suggests there is a logic to those two being on the shortlist.
Most people who have thought carefully about it veer towards Manchester, which has had a faster growing population in the last decade and enjoys more of an international reputation based on its two football teams. (Not to mention the US exposure it has gained from the character Daphne in Frasier).
And, in a GfK opinion poll for the BBC, the city was a clear but not runaway winner. When asked which of six cities they would like to be the UK's capital if it were not London, 31% of people chose Manchester, against 25% for Birmingham. (The list also included Edinburgh, Belfast, Cardiff and Bristol.)
However, there is an interesting alternative suggestion - Hebden Bridge. It is not a suggestion to take literally, but it does make an important point.
Hebden Bridge, nestling in the Pennines between Manchester and Leeds, is certainly one of the most interesting and flourishing towns in the UK. It was once declared the "fourth funkiest town in the world" (whatever that means) and is often said to be the lesbian capital of the UK.
The suggestion that it is Britain's second city came from resident David Fletcher, who was active in the 80s saving the town's old mills and converting them to modern use.
His point is that Hebden Bridge is an inverted city with a greenbelt centre and suburbs called Manchester, Leeds and Liverpool.
His point was that the real second city of the UK is a trans-Pennine strip that extends the relatively short distance across northern England, joining the built-up areas that lie second, fourth and sixth in the UK ranking.
Certainly, Hebden Bridge has attracted a lot of professional couples who are split commuters, one heading towards Manchester and one towards Leeds each morning. It is a place that allows both those cities to be treated as next door.
And maybe therein lies some kind of answer to the critical mass of London. It's not a second city called Hebden Bridge, but a super-city that tries to turn the great cities of northern England into one large travel-to-work area.
It would require a lot of physical infrastructure to improve links between the different centres.
And there would doubtless be rivalry and tension. The fact that Manchester is at its centre may not delight those who enjoy the football rivalries that are well known in that neighbourhood.
But there is no need to combine the teams, or to combine the names.
There would simply be a need to build on the success the bigger cities of Britain have been enjoying in recent years.