UK car sales rise 3% in February, SMMT says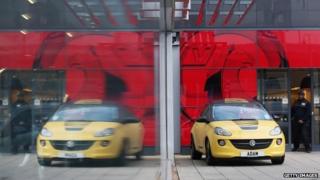 UK car sales in February were up 3% from a year ago, the Society of Motor Manufacturers and Traders has said.
The increase means sales of new cars have risen for every month over the past two years, with sales up by 17.4% over the period.
February was a "typically quieter month", the SMMT added, with 67,736 cars sold.
Total sales for the first two months of 2014 were 6.1% higher than the same period a year ago at 223,298.
SMMT chief executive Mike Hawes said the past two years of continued growth in sales underlined the attractiveness of the new car market and growing consumer confidence.
He added: "While February is typically a quieter month ahead of the March registration plate change, we expect the arrival of the new 14-plate and increasing economic confidence to maintain a steady rate of growth."
The best-selling car in the month was the Ford Fiesta with 4,415 sales, followed by Vauxhall's Corsa and Astra models with 3,138 and 2,707 sales respectively. The Ford Focus saw 2,566 sales followed by the Volkswagen 1,628 sales.
In January, the SMMT said car production hit a six-year high in 2013 with 1.5 million new cars rolling off production lines, a rise of 3.1% on a year earlier.
It also forecast output would reach record levels, with about two million cars rolling off production lines by 2017.
Last year, the UK overtook France to become Europe's second-largest car market behind Germany, which saw 2.95 million new car sales.