Crowdfunding new regulations anger start-up industry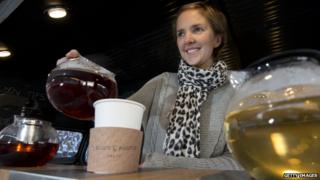 Entrepreneurs say new rules from the UK regulator will "take the crowd out of crowdfunding".
The policies on crowdfunding, which come into force next month, have been drawn up by the Financial Conduct Authority (FCA).
Crowdfunding taps into ordinary consumers who want to buy equity, or a stake, in a new start-up.
Many are hosted through a website platform such as Kickstarter, Indiegogo or RocketHub.
Investors and lenders often get rewards, linked to the amount they have pledged - such as badges, T-shirts, tickets, or whatever is being funded - as a thank-you for their support. However, these new rules only apply to equity based crowdfunding and peer to peer lending.
The FCA is now proposing that inexperienced investors in equity schemes will have to certify that they will not invest more than 10% of their portfolio in unlisted businesses.
Firms that run the website platforms say the rules are too tight and will put off potential investors.
Barry James, founder of The Crowdfunding Centre, says: "Make no mistake, the infamous 10% rule - however it's dressed up - does just that: it takes the crowd out of equity crowdfunding."
Some of the new regulations cover peer-to-peer lending - a method by which individuals simply lend to an entrepreneur, again often through a website platform.
The FCA sees these as less risky, so the rules are less stringent, and many in the industry have welcomed them.
Samir Desai, chief executive and co-founder of Funding Circle peer-to-peer lending platform, told the BBC: "There are simple things [in the regulations] like keeping the company's money separate from the customer's money.
"It's putting in place sensible operating principles that you would expect in any financial service company."
Striking a balance
Speaking to the BBC's Today programme, Chris Woolard, director of Policy, Risk and Research at the FCA, said: "We're trying to strike a balance between on one hand making sure consumers are properly informed and have real clarity about the investments they are getting into, but on the other hand, making sure this... source of funding is open to businesses and individuals."
The FCA also proposes that crowdfunding platforms should be clearly presented and understandable, and not downplay risks. They should have resolution plans in place, mapping out what happens if the business goes under.
It says that the platforms "must assess the appropriateness" of clients wanting to invest without professional advisers.
It adds that many investors are not aware of the risks involved and that between 50% and 70% of start-ups fail in the early years.
But fund manager Stephen Hazell-Smith, co-founder of the AIM equity market, said: "Last week, the French regulator threw open the doors to its adult population to invest in equity crowdfunding as it pleases.
"This week, our regulator has taken the crowd out of crowdfunding by putting in place rules on just who may be permitted to be an investor."
The Crowdfunding Centre, run by The Social Foundation, says that more than £1,700 per hour is being raised through crowd-funding in the UK.
It says that since the beginning of 2014, more than 2,600 equity and rewards projects have been launched - more than 45 a day.
Successful projects raised an average of a little over £9,500 each - a combined total of £2.4m.
Mr Woolard said: "What we are saying is, if you have never had experience of this before, we want you to gain more experience before you make a large investment."