Australia reports bigger-than-expected trade surplus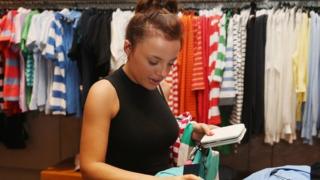 Australia has reported better-than-expected trade and retail sales data for January, sending its dollar to a one-week high.
The country's trade surplus rose to $1.4bn Australian dollars ($1.3bn) - its highest in almost three years.
Retail sales rose by 1.2% for the ninth month in a row.
"It almost seems like the Australian economy is going from gloom to boom," said Shane Oliver, chief economist with AMP Capital in Sydney.
"Retail sales are now up 6.2% on where they were a year ago, which is the fastest rate of annual increase since November 2009."
The trade surplus data showed exports were up strongly in January and imports were down.
"This was way above market expectations... and is the biggest surplus since August 2011, which is a pretty good outcome given the fall in our export prices which has occurred since then," Mr Oliver added.
"The silver lining to the end of the mining investment boom is clearly becoming evident."
The data follows fresh economic growth data from Australia on Wednesday which showed better-than-expected numbers for the last quarter of 2013.
Boosted by exports and domestic consumption, official figures showed Australia's gross domestic product (GDP) grew 0.8% in the three months to December.