UK house price rises accelerating, says Halifax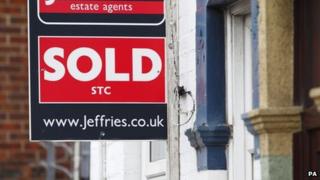 House prices are continuing to accelerate across the UK, according to the latest snapshot from the Halifax mortgage lender.
Its latest survey, for February, shows that prices rose by 2.4% last month, leaving them 7.9% higher than a year ago.
That was the fastest annual pace of increase since October 2007 and means the average UK home now costs £179,872.
The Halifax said the pick-up was mainly due to better economic conditions.
"Several factors appear to have boosted demand, such as the improved economic outlook, unemployment falling faster than expected, improvements in consumer confidence and low interest rates," said Stephen Noakes of the Halifax.
"However, continuing pressures on household finances, as earnings fail to keep pace with consumer price inflation, are expected to remain a constraint on the rate of growth of house prices.
"We are also seeing signs of a revival in house building, which should help bring supply and demand into better balance and curb upward pressure on prices over the medium and longer terms," he added.
Prices and sales
The Halifax's figures are based on a sample of its own lending.
This explains why its figures often differ from those of its rival, the Nationwide (which also samples its own lending), and from official house price reports from organisations such as the Land Registry for England and Wales and the Office for National Statistics (ONS).
At the moment, all these surveys are pointing in the same direction, showing that prices are rising in most parts of the UK and at a particularly fast rate in London.
Authorities such as the Bank of England have denied that a house price "bubble" is being formed, but if present trends continue, national house price inflation may rise above 10% within a few months, far higher than the current rate of CPI inflation, which stood at 1.9% in January.
Sales have been picking up strongly too in the past year.
The Halifax pointed out that house sales in the UK had risen for the ninth month in a row in January, and that the number of mortgages approved for home buyers, but not yet lent, was 42% higher than a year ago, suggesting a further rise in sales is still to come.